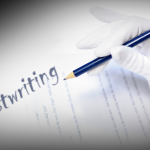 Get the full article experience by pressing the play button on the audio.
In this article, we'll introduce you to the top 10 companies for ghostwriting services in the USA. These companies have a proven track record of delivering high-quality content. They can help you find the perfect illustrator for your children's book. So, whether you're a first-time author and started to write your first book or even a seasoned pro, read on to learn about the best ghostwriting agencies in the business. And who knows, you may just find the perfect partner to help you bring your story to the world!
What is ghostwriting?
Ghostwriting is when a writer is hired to create content that will be credited to someone else. The writer's name won't appear on the finished product. Only the person who paid for the work takes credit for it instead.
Ghostwriting is used in various contexts, such as books, articles, speeches, and social media posts. Usually, the person who pays for the work will provide the ghostwriter with some guidance on what they want. Then the ghostwriter will use their writing skills to produce high-quality content that meets the client's requirements.
While ghostwriting is a great way to get quality content without doing the writing yourself. It's important to consider the ethical implications. If you're hiring a ghostwriter, it's important to be transparent about the fact that you didn't write the content yourself. Similarly, if you're a ghostwriter, you need to be aware of the ethical issues and ensure that you're comfortable with the work you're doing.
---
What are Ghostwriting Agencies, and why Choose Them?
Ghostwriting agencies are companies that provide professional ghostwriting services for clients. These agencies write high-quality content tailored to the client's needs and specifications. They offer a wide range of services that can be customized to fit any project.
---
 Why choose to hire a ghostwriting agency?
There are several benefits to choosing a ghostwriting agency over hiring an individual freelancer. If you're looking for high-quality, customized content, then a ghostwriting agency can be an excellent choice.
1- Get more time for your core business.
If you're like most people, the main reason you want to write a book or other project is because it will help grow your business. You want to increase sales, get more clients and customers. Or you want to build a reputation as an expert in your field–the list goes on. If writing isn't something that comes naturally to you (like some people), it may take longer than expected. It is because of all the research involved and finding time between clients/meetings/etc…
With a ghostwriting agency, you can take care of all the heavy lifting. This way, you can focus on their core business while we do theirs! This means they will have more time available for other important things. You would be able to focus more on tasks like meeting with potential clients and growing their network.
2- Access experts in their field
As you can see, working with a ghostwriting agency is the best way to ensure that your book will be published and read by many people. A ghostwriter is a professional who has experience in writing. This means they know the subject you are writing about. They also know how to write in a way that engages readers and helps them get their message across clearly.
If you're thinking about writing a book yourself, it's important to remember that writing is only one part of the process. You also need to find an editor and a publisher, as well as someone who can help you market your book once it's finished. Even if you have all these things lined up, writing still works. You have to research your topic and write every day until it's done. So it's better to leave it up to professional ghostwriters than do it yourself.
3- It takes the pressure off you.
When you work with a ghostwriting agency, the pressure is off. You can focus on your core business and not worry about deadlines or other details. The experts at the ghostwriting agencies will take care of everything else. They will ensure that your book is ready when it needs to be done. Moreover, they will also provide you with expert advice along the way.
With a good ghostwriting agency, there is no need to put any additional effort on your part. And this, on your part, means less stress as well! A ghostwriting agency can help you get your book done. They take care of all the details and ensure that the finished product is exactly what you want it to be.
4- No stress about deadlines
The last thing you need when you're working on a book is to have the pressure of a looming deadline hanging over your head. This can cause stress and anxiety, making the writing process more difficult. When you work with an agency, there is no deadline that you would need to worry about. They set one together based on how far along your manuscript you are.
When it comes down to it, these agencies ensure that the project is as much theirs as their clients. This is because they believe in its potential success just as much.
They understand that every writer has different goals and needs when it comes time to publish their work. This makes them unique individuals who deserve personalized solutions tailored to those needs."
5- You can find a perfect match for the project.
The right ghostwriter can bring their expertise to the table and help you achieve your goals. They'll be able to write a book that will be well received by readers, with a style that suits your voice and personality.
6- Get great results with minimal effort on your part.
Working with an agency means that you can get great results with minimal effort on your part. You can focus on other parts of your business or just relax and enjoy life.
You may be thinking, "But I'm a writer myself, so why would I want to outsource my writing?" The answer is simple – it frees up time so that you can focus on other things while still getting great results!
When you outsource your writing, you will get a writer who is specialized in your niche. This means that they know how to write for your audience and can create content that resonates with them. Your writer will also be able to write quickly and efficiently so that you don't have to worry about deadlines!
---
List of The Best Companies For Ghostwriting Services
Ghostwriting services are an excellent way to get your message out there, whether you need help with a book, article, or magazine article. You may already be familiar with ghostwriting services, but if not, it's time to learn more about them. Ghostwriters can help you develop content for all kinds of projects, including academic essays and research papers. So stop searching for "ghostwriters near me" and read the following section for the best companies ghostwriting companies you would ever need.
1- Book Writing Bureau
Book Writing Bureau is a website that offers ghostwriting services to clients. They are one of the best companies for ghostwriting services in the USA. They have a team of professional ghostwriters and editors who have been writing for a long time. However, they also provide ghostwriting services for all kinds of clients. And are the best ghostwriting company in the USA.
You can contact them for any kind of ghostwriting service, including book writing services, blog post writing, and more. Their writers have been providing excellent ghostwriting services for many years.
2- Ghostwriting Founder
This company is based in the United States and has been around since 2005, which means it has a good amount of experience under its belt. Ghostwriting Founder offers ghostwriting services for books, articles, blogs, and more. They've written over 750 books so far!
They also have several different packages depending on what you need. The most popular option is the "Completely Custom" package. This comes with unlimited revisions and takes about three months to complete.
3- American Book Writing
American Book Writing is a ghostwriting service that helps anyone who needs help writing books, articles, and other content. We have a team of writers with a wide range of experience who are ready to take on your project.
It provides a wide range of writing services, including book ghostwriting, blog post ghostwriting, and ebook ghostwriting. You can also hire it for other writing projects, such as whitepapers, press releases, and web content. They will help you with whatever you need, from writing a book proposal to ghostwriting an entire book.
4- Book Writing Studios
Book Writing Studios is a ghostwriting company that offers high-quality ghostwriting services to clients. The company has been in business since 2008 and has a large client base. It has a team of professional writers who can help you with your project.
It also has a team of editors and proofreaders who can ensure the quality and consistency of your book. The company is based in the US but provides services to clients worldwide.
5- Book Writing Founder
Book Writing Founder has been around for over 10 years and has been a trusted ghostwriting service for thousands of clients. They have a team of professional ghostwriters who are all native English speakers. Moreover, they have an extensive portfolio of writing samples you can view on their website.
They offer many different pricing options depending on your needs. It also includes hourly rates and fixed prices for specific assignments (like book proposals). You can get a free quote on your project by filling in the form on their website. You can also message them via email or phone if you have any questions.
Book Writing Founder is a great place to go if you need help with a specific project but don't have the time or expertise to do it yourself. They can also help you with marketing and promoting your book once it's finished!
6- American Author House
American Author House is a US-based ghostwriting company that offers a wide range of ghostwriting services. It includes book manuscripts, blog posts, and articles. They have a team of professional writers who specialize in various fields. Moreover, they also offer a free quote tool that allows you to get an estimate of the total cost of your project.
They have writers specializing in various fields, including science and technology, history, finance and business, lifestyle, and spirituality. They also offer free quotes on your projects.
7- Book Writing USA
Book Writing USA is a professional ghostwriting service that provides custom-written papers, dissertations, and more. They have a team of professional writers ready to help you with your writing projects. They are located in New York City and are the best choice for anyone looking for high-quality writing services at affordable prices.
Moreover, they offer a wide range of academic assistance services, and they provide services 24/7 and offer a 100% money-back guarantee if you are not satisfied. They can also give you a free sample service where they will proofread your document for free. This way, you can be sure about the quality of our work before hiring them for any project. Their writers are ready to help you with any assignment, regardless of the subject matter.
8- Vox ghostwriting:
The leading company in the writing agency sector is Vox Ghostwriting. They are well renowned for providing high-quality services, largely due to the contributions made by their talented team of ghostwriters.
 Without lowering their standards over the years, and have been able to preserve their superiority. They are flexible in how they offer their services as a writing agency. To deliver nothing but the best in terms of Payment Plans, Services Offered, the Finest Literacy Usage, and Secure Ownership, they have focused on the needs and requirements of their target audience in every aspect.
9- Verblio:
A well-known blog and article-generating service are Verblio. You can get search engine-friendly blog content that has been ghostwritten at scale from them using their expansive platform and vetted writers. Verblio is an excellent location to get blog content in bulk because it has a large network of writers and writers from various sectors.
In addition to providing fixed, straightforward pricing that makes it simple to plan your monthly blogging expenses, Verblio also takes steps to ensure quality on your behalf. Although Verblio primarily promotes itself as a blog and SEO writing service, they also produce other types of content, including eBooks, white papers, and press releases.
10- ContentWriters:
Leading self-publishing companies provide completely managed ghostwriter services. They provide a platform where you can order several kinds of material, including press releases, blog entries, product descriptions, and social media updates. The content will then be created, revised by the editors, and delivered to you for approval within the platform once they carefully choose the right writers for the project.
If you have more comprehensive content demands, you can work with a specialized account manager who will take care of your regular writing requirements, or you may order as a "self-service," which is less expensive. Each significant sector, including the legal, automotive, and health sectors, is served by content writers.
---
FAQs
Is ghostwriting a good job?
Ghostwriting can be a good job for those who enjoy writing and want to make a living without worrying about marketing or finding clients. However, whether it is a good job depends on personal preferences and goals.
On the positive side, ghostwriting offers the flexibility of working from anywhere. However, there are downsides to consider, such as not always receiving credit for your work.
Ultimately, the decision of whether ghostwriting is a good job or not depends on what you are looking for in a career. If you enjoy writing and want to earn a living, then ghostwriting could be an excellent choice. Just be sure to work with reputable agencies to ensure fair compensation and a positive work environment.
---
How do I get a job in ghostwriting companies?
You need to follow three steps to get a job in a ghostwriting company. First, research companies specializing in ghostwriting services and learn about their application process. Second, prepare your application materials, including a cover letter, resume, and writing samples. Finally, actively seek job opportunities by checking job boards, contacting agencies directly, and networking with other writers. If you don't have any prior ghostwriting experience, consider taking on some freelance projects to build your portfolio. By being persistent and dedicated, you can land a job as a ghostwriter and build a successful career in the field.
---
Conclusion
whether you're looking to write a memoir, a novel, or a business book, these top 10 ghostwriting agencies in the USA can provide you with the best eBook writers to help bring your ideas to life.
These companies have a proven track record of delivering high-quality content. They offer a range of services to suit your needs and budget. So, whether you're an established author or just starting, consider contacting one of these ghostwriting agencies. With their help, you can create a book that truly resonates with your audience and establishes you as an authority in your field. So, don't wait any longer – take the first step toward realizing your publishing dreams today!