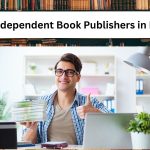 Publishing a novel is no easy task. First, you have to write a book. Then, you need an editor, proofreader, and graphic designer to give your book its desired look. Next, you have to find someone who will actually provide you with affordable book publishing services, which is harder than it sounds.
You need to go through several rounds of querying agents until someone agrees to take it on. Some agents won't even respond unless your writing is perfect. When they finally publish the book, you will realize that it costs a lot more than you anticipated.
The key to getting your books published is to find small to midsize independent book publishers in New York. They have less stringent requirements than the big publishing houses.
Hire Independent Book Publishers For $50
Top 10 Best Publishers in New York:
Millions of books are being published around the world. With the invention of the internet and social media sites such as Facebook and Instagram, online book-selling revenues will keep increasing year after year.
Some authors prefer creative yet low-cost book marketing services and freedom of self-publishing. But they are unaware of different challenges. You spend months creating your book, only to realize you haven't thought through how you will get it into the hands of readers. 
If you live in New York and want to get your book published. Here are 21 of the best independent book publishers in NYC:
1- Publishing by Workman:
Workman Publishing belongs to the Hachette Book Group. It is also a large publisher, though, with labels like Algonquin Books, Timber Press, Artisan Books, and Storey Publishing. So, with the reputation of the best publishing company, this publisher deals in parenting and gardening books. It also has many hits in fiction and other nonfiction categories as well.
The second version of Jeff Alworth's fun and useful book, The Beer Bible, was published by Workman Publishing. Also, The At Liberty by Kaitlyn Greenidge, a well-reviewed historical fantasy book, is still one of the best books of 2021.
2- Beacon Publishing Group:
Beacon Publishing Group is one of the most well-known independent companies in New York City. They have books, apps, and podcasts from all over the world. 
It has Fox and Hound Books, Gallant Publishing, Moher Books, Kessler Books, University Press, and Trinity Book Group as brands.
Beacon Publishing Group takes all kinds of fiction and nonfiction because it has many brands. There are Christian romance books, children's books, and even books about Ireland and knights.
Its newest books are College Cooking 101 by Sarah H. Long and the thriller Hiding Behind Robes by J. L. Canfield.
People who want to submit fiction or nonfiction to Beacon Publishing Group don't need a book writing agent. Read the full submission instructions and understand the factors that cost to publish an ebook to avoid any consequences in the future.
Hire Independent Book Publishers For $50
3- Books from Persea:
From 1975 to 1979, Michael and Karen Braziller ran Persea Books. Up to now, they still own and run it. The independent press truly shows interest in both current events and the many unique ways that American stories are told.
Along with Michael White's fairly new memoir Travels in Vermeer, the publisher also put out a special version of Oscar Hijuelos's first book, Our House in the Last World, which is considered a literary classic.
Persea Books is looking for new essay collections, YA novels, literary fiction, biographies, and other types of editing for books. They are not interested in children's books or genre fiction, but young writers can send in their modern work. 
4- Knopf Doubleday: 
Knopf Doubleday is full of stories about books. These independent book publishers in New York joined Schocken by Salman Schocken, Pantheon by Kurt Wolff, Vintage Books, and five other labels.
It has both fiction and nonfiction sections. The nonfiction sections have biographies, social science, music, stories, and history. Sandra Cisneros's praised novel The House on Mango Street and Hope Jahren's best-selling autobiography Lab Girl are two of its most important books.
Usually, Knopf will only accept entries that have been arranged by an agency. 
Hire Independent Book Publishers For $50
5- Simon & Schuster, Inc:
Simon & Schuster was started by Richard L. Simon and M. Lincoln Schuster in 1924. Their first book was a collection of crossword problems that sold very well. 
It has a large collection of new and interesting books, such as All's Well by Mona Awad, which is occult fiction. 
Simon & Schuster, Inc. was a New York indie book publisher that only wanted to receive fiction and nonfiction applications that had been handled by an agency.
6- Abrams:
Abrams was founded in 1949 and is best known for focusing on illustrated books and art tools at first. With the help of companies like Amulet Books and Abrams Press, the publisher has since put out visual novels and books about humor, fashion, history, and technology.
Now it has books on a wide range of subjects for both kids and adults. It has both Ted Naifeh's YA graphic book Witch for Hire and Brad Kessler's literary and cultural novel North in its collection.
Like the other publishers on the list, Abrams will only look at writings and offers from literary ebook writers they know and trust. 
7- Church Publishing Inc:
Church Publishing Inc. was first established in 1918 and was known as the Church Hymnal Corporation. It has been around for a little more than 100 years and has helped over 400 writers. 
It teaches people of faith about things like mental health and social justice.
Everyone can learn from the titles in Church Publishing Inc. about how faith and spirituality can affect other parts of life. 
Indie book publishers in New York will accept a request from you even if your nonfiction book isn't finished yet.
8- The Springer Publishing:
Springer Publishing was started by Bernhard Springer in 1950.  
Springer Publishing, like Elsevier and Thieme, has very helpful books about medicine and health care. Trauma Counselling by Lisa Lopez Levers is recommended by professionals, and Stronger 
After Stroke by Peter G. Levine can help people who are healing from a stroke.
If your work fits into one or more of Springer Publishing's main areas, you can send your book idea to the right editor. The author guidelines and manuscript preparation guide are available in the documents section.
9- Publishing for Columbia University:
Columbia University's independent book publishers in New York have been around since 1893, and its goal is to expand and share knowledge in fields like history, science, literature, and business. It has always worked with well-known people, like David Foster Wallace and Judith Butler, to make readers more curious.
Matthew Calarco's book The Boundaries of Human Nature is interesting for people who study theory and animals. 
You can only send your nonfiction work to one editor. So check out the editors' topic areas before you send it. People show interest in many things, such as sociology, life science, and economy.
Hire Independent Book Publishers For $50
10- Literary Press in Bellevue:
It was founded by Jerome Lowenstein, MD., in 2007 as a safe place for creative fiction and nonfiction. 
In particular, the printing press wanted to let people talk about art and science and how they relate to each other through writing. It doesn't matter if you want to publish a poetry book; it's all a brain-teasing treat that can change the way people see the world.
One example is Tinkers, a book by Paul Harding that won the Pulitzer Prize. In the same way, The Bear by Andrew Krivak is one of the best books in the philosophical fiction genre.
On the contact page, under "submission guidelines," it says that Bellevue Literary Press is not accepting new ideas at this time. 
Engage Through Storytelling: An Effective Way to Connect with Readers
Humans have been telling stories since the beginning of civilization. Our brains are wired to process and connect with narratives, and this is why storytelling is such an effective way to engage readers in your ebook. 
By incorporating story elements in your writing, you can create a bond with your readers, making them emotionally invested in your content. 
Utilize anecdotes and real-life examples that are relatable to your readers to help them visualize the message you're trying to convey. This helps them better understand the concept and its relevance to their lives. 
A well-crafted story can captivate readers' attention and hold it until the very end of your ebook. Through storytelling, you can create a more meaningful and memorable connection with your readers and differentiate your ebook from others in your niche.
Conclusion:
These independent book publishers in New York aren't just businesses; they're also places where people can be creative, protect intellectual freedom, and support a wide range of written works.
If you want to be published as a writer or if you want to find new voices and places to read, keep these companies in mind as you start your writing journey. Let's honor and support these literary giants who continue to make our lives better, feed our minds, and fill our souls.