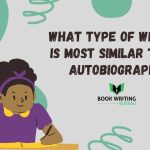 Engage the Audio for the Complete Article
If you have ever been interested in a person's life story Autobiographies are a fascinating type of writing that allows writers to share their life stories, experiences, and feelings with their readers through the written word.
Did you know that autobiographies are not the only type of writing that has things in common with other types?
In this content, you look at the different types of writing similar to autobiography and see what makes each unique.

Understanding Autobiography
Let's start by briefly describing what an autobiography is before we talk about other types of writing similar to autobiography. An autobiography is a type of writing where the author writes in their own words about their life. It gives a close and personal account of their experiences, achievements, struggles, and growth over time. For those seeking the best ghostwriting services to craft their autobiography, it's crucial to understand that the most important thing about an autobiography is that it is personal. This is because the author is the story's subject and the one telling it.
Type Of Writing Similar To Autobiography
Here are some examples; let's see what type of writing is most similar to an autobiography.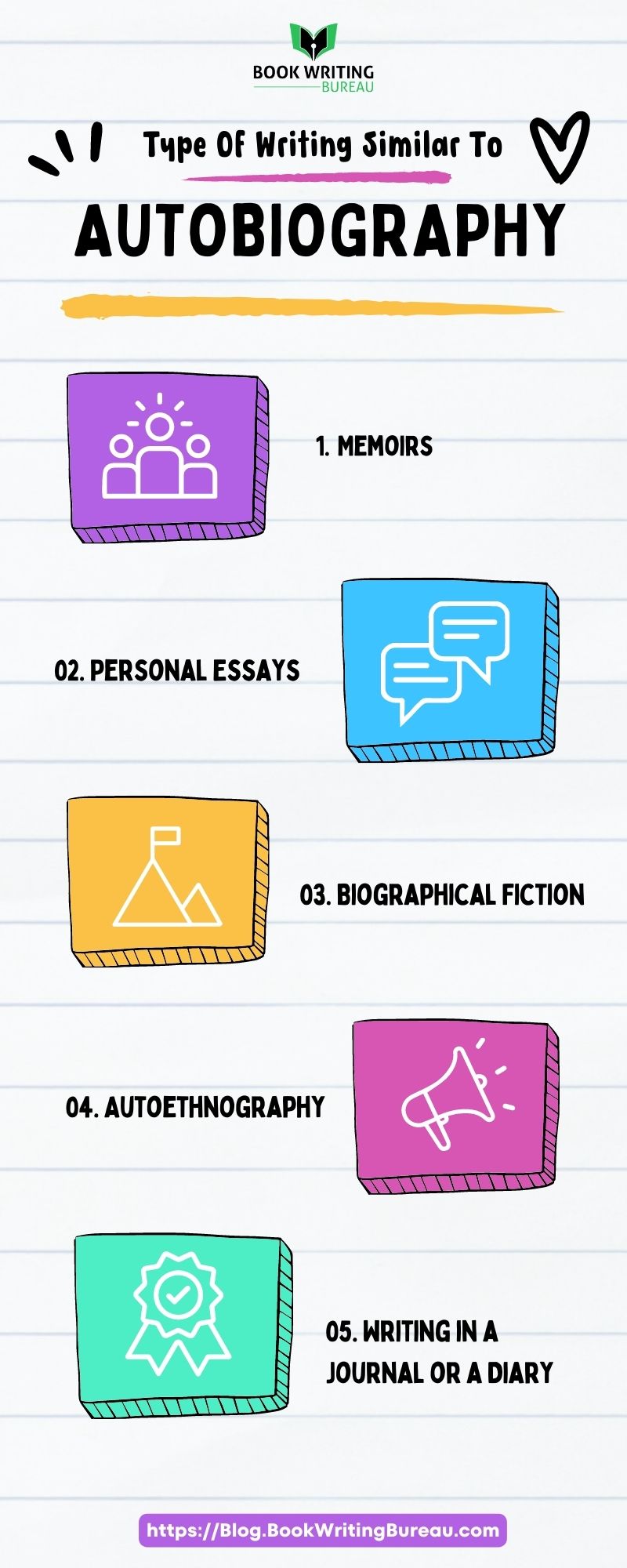 1- Memoirs
In the same way that autobiographies focus on a person's life events and memories, so do memoirs. But unlike autobiographies, which are about a person's life, diaries are about certain events, topics, or times in that person's past. They give a more focused view of important events, giving us amazing insights into the author's life.
2- Personal Essays
Personal essays are another type of writing similar to autobiography; they have similar material and structure to autobiographies. Personal writings, like autobiographies, are full of deep self-reflection and looking inward. Reading them is personal and familiar because they show the author's thoughts, feelings, and views.
3- Biographical Fiction
Biographical fiction is an interesting subgenre that blends parts of fiction with real-life events. In this type of writing, similar to autobiography, the author can use their own life experiences or other people's life experiences to tell a story. Historical fiction combines fact and fiction, making it so interesting and making readers feel something.
4- Autoethnography
Autoethnography is writing that blends personal events with criticism of culture. It requires the author to think about their own life with bigger issues in society or culture. This one-of-a-kind way of telling a story gives the story more depth and meaning.
5- Writing in a Journal or a Diary
People have been using diaries and records to track their lives for a very long time. They are similar to diaries in that they focus on what happens and how someone feels daily. When someone writes in a diary or journal, they give an honest, unfiltered look at their life, making the writing very personal and interesting.

Benefits of Each Type of Writing Similar to Autobiography
Any kind of writing that is similar to an autobiography has its own set of pros and cons. Personal writing gives people a chance to think about themselves and express themselves. Memoirs let authors dig deep into certain topics, and biographical fiction encourages creative writing. Writing in a journal or diary helps keep memories and feelings alive, and autoethnography gives stories more meaning by including cultural points of view.
When to Choose Which Writing Type?
When choosing a writing style, it's important to consider how the author likes to tell a story, what the story is about, and who will be reading it. People often think an autobiography is the best way to write a full account of one's life. If you were going to write a biography, it would be better to focus on certain events or themes. Personal experience essays are a good choice for people who want to think about themselves, while works of historical fiction help people use their imaginations. People who want to remember their daily events can write them down in a diary or journal; autoethnography is a great way to add cultural context.
Moreover, Do not be afraid to hire a book writing service to ensure your story is well-written and flows well. They can help you make your trip come to life interestingly and powerfully. Good luck writing!
Conclusion:
To sum up, many other types of writing are similar to autobiography, which makes them great ways for authors or writers to tell the stories of their lives. Each type of writing has its unique appeal, whether it's a memoir for its depth, a personal essay for its introspection, biographical fiction for its creativity, autoethnography for its study of culture, a journal for its honesty, or creative nonfiction for its originality.