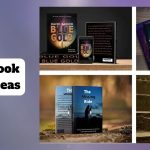 Access the full article via audio playback.
Book covers give consumers a preview of your story. It is a shortcut that allows them to determine if they enjoy your writing and if they can trust you with their valuable reading time. It is essential to ensure that your poetry book covers are professional, eye-catching, and indicative of its content, as it is the most critical factor in selling your book.
Start your search for book cover inspiration with the genre's best-selling titles. However, feel free to experiment with unconventional book cover concepts to separate from the competition.

Best Poetry Book Covers Ideas
A few stand out as you consider which poetry books to add to your library. We chose these Poetry Book Covers due to the depth of emotion they convey, the variety of poetic styles they encompass, and the wide range of topics they cover.
1- Artful Typography:
If you have a creative title, you can transform it into a striking typography that conveys an image associated with the title and the book's content. Typography can consist of intertwining text, large and bold typefaces, or fonts that have been meticulously organized to create stunning imagery. The intelligent use of color can also improve the visual appeal of typography.
The Association of Small Explosives by Karan Mahajan makes its point by depicting the spaces between vowels as connected explosives. Against Happiness by Eric Wilson employs clever typography and whitespace to convey the book's purpose.
2- Bigger, Better Fonts:
Recently, large, aggressive typefaces on book covers have become increasingly popular Poetry Book Covers, and it's not hard to understand why. This typography type proclaims, "This is a book you will want to pick up." Or, "Here… we… go!"
Expect to see this typography surrounded by vibrant colors, as subtlety is not precisely the objective here. It is frequently combined with books with emphatic titles, such as Sex and Rage by Eve Babitz and Here I Am by Jonathan Safran Foer. Also, if the type is executed well, it may attain iconic status. The typography of The Godfather, which became an instant classic upon its publication, is an example.
3- The Minimalist Approach:
Minimalist design is always well-liked because it conveys the book's central message in a refined and profound manner. The creative use of whitespace distinguishes the book's cover design from overcrowded ones. You can also hire a book cover designer for the minimalist design of book covers that applies to various genres, from nonfiction business books to piquant fiction.
Look Who's Back by Timur Vermes is fearless in standing out with ample whitespace and a clever illustration that alludes to the book's subject matter. In Pursuit of Grit, Darrell Williams employs a captivating image and clean typography to convey the book's message.
4- Imaginative and Lovely:
It goes without saying that if you are composing a children's book, your book cover must be whimsical and charming. Illustrations are most effective with children, who will ask their parents to purchase your book if they see it. It also indicates that the book is suitable for children.
The classic children's book The Tiger Who Came to Tea by Judith Kerr conveys precisely what a child would anticipate from the narrative. Shel Silverstein's The Giving Tree is a classic children's book with a literal but endearing cover.
5- Rough Handwritten Covers:
You know that sensation you get when a friend sends you a handwritten letter? It is the concept behind hand-lettered titles, a contemporary cover design trend for poetry book covers.
Hand-drawn labels emanate tenderness, sincerity, and individuality. Don't be surprised that this typography works best with eccentric or extremely original books with extraordinary personalities! It is currently quite prevalent in Young Adult fiction, with John Green's The Fault in Our Stars serving as an example. The Fault in Our Stars by John Green stands out immediately due to its handwritten typography, which promises readers a warm and unique story. The handwritten title of Rachel Cantor's Good on Paper promises a contemporary and welcoming read.
6- Vivid maximalism:
Most individuals are drawn to vibrant and dazzling imagery. Packaging, advertisements, and book covers frequently exploit this psychological phenomenon.
You can attract attention to your book by incorporating maximalist elements into the design of its cover. You can accomplish this by including book spine design, among other things, bold graphics, noisy and contrasting colors, attractive fonts, eye-catching illustrations, etc.
Readers are likelier to check out your book if the cover is captivating or distinctive, particularly if the design provokes thought or leaves a lasting impression.
When collaborating with the best children's book illustrators, feel free to be as imaginative as possible when designing a cover that stands out on the shelves or an e-commerce page. But remember that regardless of how outlandish or daring your book cover design is, it should always reflect the story of your book.
7- Unique and innovative:
People are increasingly intrigued by futuristic and cutting-edge designs. They can have a luxurious and contemporary appearance that leaves an indelible impression.
There are innovative and futuristic designs in various design styles across all mediums. For instance, websites, mobile applications, and popular social media platforms like Instagram, Twitter, and TikTok feature futuristic designs. Sharp lines, abstract images, contorted patterns, dark colors, daring characteristics, and one-of-a-kind designs have continued to gain popularity.
You can capitalize on this trend by designing sophisticated contemporary Poetry Book Covers.
8- Landscape Designs:
People will frequently look closer at your book because it appears so different from other books. But you can attract more attention to your book's cover using a unique style: landscape format. This style is simple yet visually refreshing.
You can combine this design with bold and easily read type for your title. In addition, the landscape design complements minimalism.
Landscape designs are surprisingly adaptable. Landscape designs, with vivid colors and loud patterns, can also be striking and experimental.
The landscape format will add a unique character touch to your book cover's design.
9- Retro Style:
Feel free to utilize retro fashion, mainly if your novel occurs in a specific era. Retro touches are reviving and can be implemented in various book cover concepts.
Little Games by Stefanie Snider exudes a classic vibe that some readers of this genre will find enticing. In this book set in the 1980s, Kurt Schlichter's Inferno features illustrations of the era's classic style.
Patricia Storace wrote this book, and Linda Huang designed its cover. This cover employs the ideal contrast to make the title stand out. Similarly, the design is sufficiently abstract to pique the viewer's interest.
10- Textures and contrasts:
Contrasts and textures are fundamental in all design forms. Gen-Z and Millennials, for instance, are quickly gaining popularity as streetwear. You can see the contrast, contrasts, and textures extensively on t-shirts, hoodies, crewnecks, caps, trousers, and more.
Contrasts and textures are popular because they are entertaining and produce an atmosphere that compels people to loiter and reflect.
This design is suitable for Poetry Book Covers. However, some authors want prospective readers to be curious about their books, and this popular design trend exemplifies new and contemporary design like nothing else.
Linda Huang created the cover art for this book, and the author is Patricia Storace. The cover uses just the right amount of contrast to draw attention to the title. The design is abstract enough to hold the attention of the observer.
Tips for Poetry Book Covers Designs: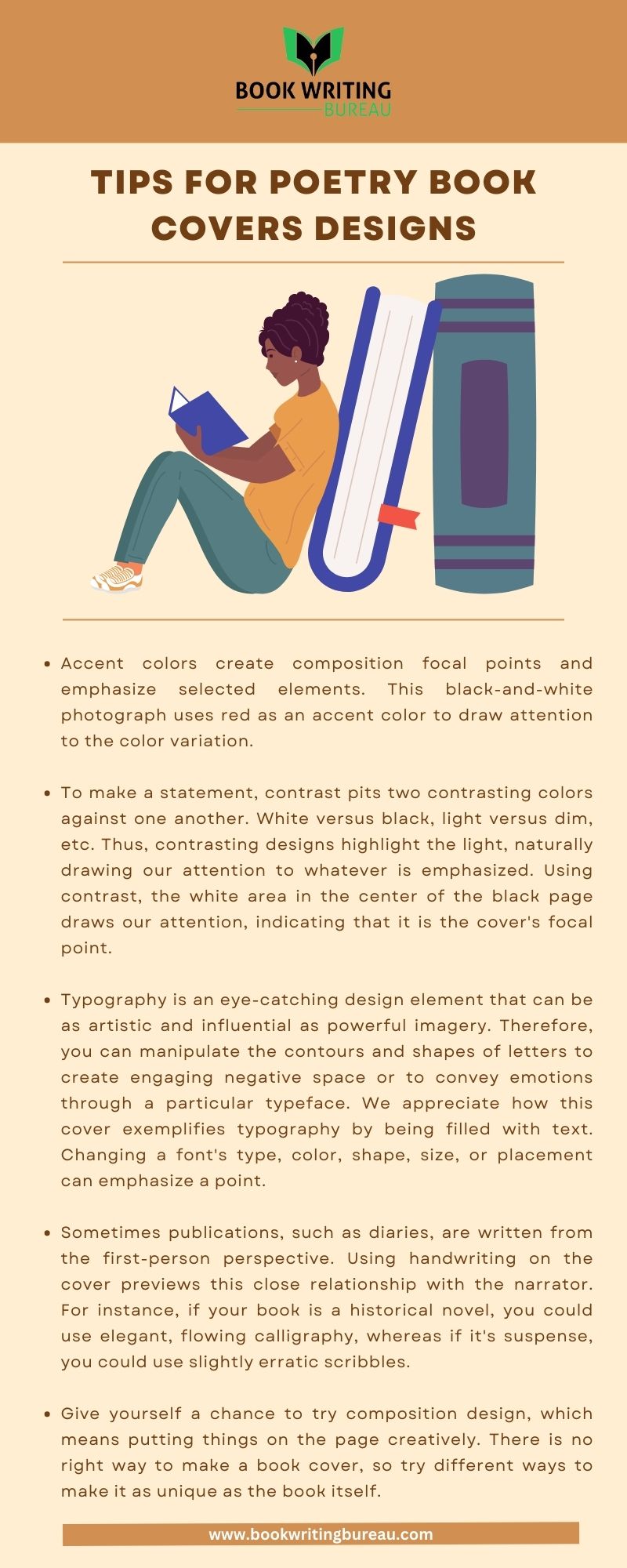 Accent colors create composition focal points and emphasize selected elements. This black-and-white photograph uses red as an accent color to draw attention to the color variation.
To make a statement, contrast pits two contrasting colors against one another. White versus black, light versus dim, etc. Thus, contrasting designs highlight the light, naturally drawing our attention to whatever is emphasized. Using contrast, the white area in the center of the black page draws our attention, indicating that it is the cover's focal point.
Typography is an eye-catching design element that can be as artistic and influential as powerful imagery. Therefore, you can manipulate the contours and shapes of letters to create engaging negative space or to convey emotions through a particular typeface. We appreciate how this cover exemplifies typography by being filled with text. Changing a font's type, color, shape, size, or placement can emphasize a point.
Sometimes publications, such as diaries, are written from the first-person perspective. Using handwriting on the cover previews this close relationship with the narrator. For instance, if your book is a historical novel, you could use elegant, flowing calligraphy, whereas if it's suspense, you could use slightly erratic scribbles.
Give yourself a chance to try composition design, which means putting things on the page creatively. There is no right way to make a book cover, so try different ways to make it as unique as the book itself.
Conclusion:
Each year offers a new set of trends in Poetry Book Covers. Not every movement is suitable for every book. The method of your book's cover should be as unique as the story it conveys. Importantly, when considering 2022 book cover design trends, remember that your book cover is like gift packaging. It should be appealing and attract attention, but what's inside is ultimately more important.