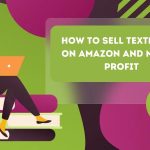 Click the Play Button to Hear the Full Article
Do you have a lot of old textbooks on your shelves that are gathering dust? It's time to get money out of those books you forgot about! Selling textbooks on Amazon is a good way to get rid of junk, and it can also be a good way to make money. In this blog, we'll take you on a journey of discovery as we show you how to sell textbooks on Amazon easily and make the most money. Get ready to open the door to opportunities and turn your old textbooks into a profitable business.
Is Selling TextBooks on Amazon Profitable?
You can still make money if you sell books on Amazon FBA today. Amazon may be a big company, but those who are ready to put in the work can make money from it.
You might have a stack of books at home collecting dust, want to sell books on Amazon as a business, or just want to learn more about your choices.
No matter why you're here, selling used textbooks on Amazon can be a good way to make money. This way, you don't have to spend your life savings on inventory, so it's worth saying that selling books on Amazon, whether self-help books or zoo books, is very profitable.
How much does it cost to sell Textbooks on Amazon?
It's important to consider how much it will cost when selling books on Amazon. Some of these costs are delivery fees, rights, fees for referrals, and more. Let's make it easy to understand by breaking it down.
First, you must give Amazon 15% of every book you sell as an advertising fee. This is similar to giving Amazon a small payment for helping you sell your book. There is also an ending fee, which you must pay when your book sells.
You must also consider how much it will cost to run the business. You can sell on Amazon in two ways: FBA and FBM.
If you're an author who sells books through Amazon's Kindle app, you can get a cut of each sale. But Amazon gets a fee on the book's price, which is a small part of the price. This is like giving Amazon a small payment for helping you sell your digital book.
You might wonder if selling books on Amazon is expensive because of the costs involved. But you can rest assured that selling books on Amazon doesn't have to break the bank, even with these costs. It's considered one of the best categories to look into on the site.
You can still make money if you are careful with your costs and set competitive prices. The key to success is finding the right mix between prices and earnings. And remember, knowing the average time to read a 300 page book can help you set the right price for your books so you can make the most money.
How To Sell Textbooks On Amazon
Now the main talk about cost and profits is out of the way. Let's see, how can you sell textbooks on Amazon? Here are seven things you can do to help you sell books on Amazon.
1- Choose the books you want to sell.
There are many ways to find books, but the easiest way to get started is to sell the books you already own.
You can also add to your inventory in the following ways:
Wholesale:
You can save money if you buy in bulk online or at a bookstore's closing sale. You can also get more copies of new books from distributors or authors. You might not be able to choose everything you get, but you can buy more books at low prices.
Local sources:
You can find used books at library book sales, yard sales, used bookstores, and thrift shops in your area. You might also find rare books at garage sales or yard sales.
Auctions:
Look for used or rare books at auctions, estate, or farm sales. When you're getting your books, checking out their state is important. Follow Amazon's specific rules about how your books should look when you list them. Make sure to read the rules for both new and used books, as well as for collectible books and other niche things.
2- Make a selling account on Amazon.
Choose whether you want to sign up as a private or business seller. Benefits and costs are the main things that are different.
The Individual selling plan is a pay-as-you-go plan that gives you access to simple tools for listing your items and managing orders. You can make listings one at a time by matching products to existing pages or making new pages in the Amazon catalog. You don't have to pay fees to Amazon unless your item sells. So it's a good place to start if you're a new business owner who wants to sell things online.
You can use advanced selling tools if you sign up for the Professional selling plan and pay a monthly fee. Unlike the individual selling plan, you pay a monthly fee whether or not you list or sell anything. However, both plans pay referral fees on things that sell.
Compare how Amazon sells textbooks to determine which one is best for you.
Once you've decided on a plan, you might want to use this helpful cost tool to determine your per-unit sales margin. Set up your Amazon selling account when you're ready. With this, you'll be able to start selling on Amazon. It will also give you access to the Seller Central dashboard, where you can list products, control your inventory, and fill orders.
3- Figure out how you'll fill requests.
Do you want to be in charge of your stock, packing, and shipping? Or would you rather let Amazon take care of everything? As an online merchant on Amazon, you have two ways to fill orders:
Merchant Fulfilled Network (MFN):
You store goods, pack books, and send them out independently.
Fulfillment by Amazon (FBA):
You send books to an Amazon Fulfillment Center; they do the rest. FBA covers storage, packing, shipping, customer service, and refunds. Using FBA to ship your goods is also the easiest way for most offers to get the Prime badge. Many Amazon customers look for the "Prime" badge because the item will ship quickly and for free.
4- Set the price of your book.
The price of a book relies on many things, such as its type and condition. Monitor what other booksellers charge and change your prices to match. You can go back in at any time and change the price. Here are some of the most important things that affect book prices:
What's the state of the book
Is it a new or used book?
Is the book something you want to keep (like a first edition)?
Remember to figure out the cost of packing and shipping when you set your prices. Also, if it's an independent author and you are selling on their behalf, then factor in the cost of the best book marketing services that may incur.
5- Put your books up on Amazon.com.
Going straight to the product page and looking up the titles of the books you want to sell is an easy way to list them for sale. Do these things:
Type the book's ISBN into the search box on Amazon. If the book came out before 1970, you must write the title by hand.
Click the "Sell on Amazon" button on the product page.
Put the SKU in. This can be any SKU you want, or you can leave it blank, and Amazon will develop one for you.
Choose a price. Just click that button to get the same price as the lowest one.
Type in the total amount. One unit is the norm.
Pick the situation. It's important to tell the truth about how good each book is.
Choose whether you want to use MFN or FBA.
6- Look at your costs and earnings.
Once your book pages are live, you need to keep track of your sales to see which books do well and which don't. Remember that a lower price gives you a better chance of getting the buy box. But watch your profits and don't sell your books for too little. Make sure that when the book sells, you will still make money.
7- Take reviews seriously
When it comes to books, customer service is easier than when it comes to other goods. You don't have to consider reviews since you didn't write the books yourself.
But you should pay attention to what people say about your books on Amazon. You need to say how the book is in the right way. If you say the situation is better than it is, you are likely to get bad reviews.
FAQs
How can I sell used Textbooks on Amazon?
You can not only sell new books but also used books on Amazon. If you don't know how to, don't worry, as in the section, we will cover that too.
So first of all, to sell used books on Amazing, you need to decide three things to sell a book on Amazon:
Your way of delivery (FBA or FBM)
What kind of seller do you want to be (an individual or a business)? How do you get your stock? Once you've decided, you can quickly put your books on Amazon and wait for your first sale.
How will you take care of orders?
There are two ways to get an order from Amazon to the customer: FBA and FBM.
FBM stands for Fulfillment by Merchant.
With this method, when a book is sold on Amazon, you choose, pack, and ship it yourself using a service like FedEx, UPS, etc. FBM sellers are also in charge of storing their goods.
So, when figuring out your costs, don't forget to include storage fees if you're not keeping the books at home. Also, factor in the shipping and handling costs and the time it takes to pack and ship orders.
Use FBM if you only have a few orders to ship or if your business is big enough that your shipping costs are less than Amazon's. Again, you will need somewhere to put your books.
Fulfillment by Amazon (FBA)
When you make a sale this way, Amazon chooses, packs, and ships the book. Amazon will also store your items and handle customer service for you.
So, instead of paying for storage, shipping, handling, and working yourself, you pay an FBA fee to Amazon to cover those costs.
Use FBA if you have a lot of orders to fill but your business isn't big enough for your shipping costs to be less than the FBA fees. Plus, you won't need a place to store your books until they sell because Amazon's delivery centers will do that for you.
What kind of seller should you be on Amazon?
There are two kinds of people who sell on Amazon.
Individual sellers
Most individual sellers sell less than 40 items each month. This is a good way to sell if you only have a few things to sell or just do it as a hobby. The fees for private sellers and professional sellers are different/
Experts at selling
Professional Amazon sellers are those who sell at least 40 items per month. Most of the time, they are any book publishing services company themselves. This method is suggested for Amazon sellers with a lot of stock who want to make a steady monthly income from their sales.
How can I sell used Textbooks on Amazon?
Most people want to sell books that they already own online, but you can also get books from several other places to keep growing your Amazon book sales.
Here are the six most common ways that people sell books on Amazon.
Sell the books you wrote.
This is probably the easiest way to find books to sell, and many buyers start this way. Look around your house and see if you have any old books to sell. Think about studies, books about rare subjects, or old comic books.
Book sales
It can be a bit like looking for wealth to sell books. Also, book sales happen all the time, especially at libraries. Bring a book scanner to these sales and look for books that would be good to sell on Amazon. If you have a Bluetooth reader and a book-scanning app, you'll be able to find money-making books at these sales much faster than your competitors.
Online trading
Don't feel like going out? Some sellers look for books on websites other than Amazon that are cheaper than those on Amazon. This is called "online arbitrage" most of the time.
All you have to do is buy the book from one website or directly from a professional ebook writing service for a low price, wait for it to come, and then sell it on Amazon for a higher price.
Buying in bulk/wholesale
You can often buy lots of books online for very low prices. Many used books can be bought at low prices on eBay, Craigslist, and Facebook.
Ensure the books you buy haven't been sorted or scanned if you go this way. If so, you might be getting "duds" from another Amazon seller that doesn't make money for Amazon.
Estate/closing sales
There will be a lot of books for sale at estate sales, closing sales, and moving sales, so this is a great way to find books. Most of the time, you can make offers on whole sets for a few cents.
Free books
Check out Craigslist or Facebook Marketplace. Someone is always looking to give away books for free. You just need to go get them whether they are the world's longest book or shortest book, It's free of cost, and you may be able to market them and sell them for a good price.
Just be careful because sometimes these free books are offered by other sellers who want to eliminate the ones that don't sell.
What kind of Textbooks can you sell on Amazon?
You can sell common books on Amazon, like hardcovers, paperbacks, and apps. You don't need to look any further if you want to list and sell books from your physical store, trade non-fiction books you've already read, get rid of comic books you love, sell rare hardcover collectibles, or get rid of children's books.
Think about the fact that some books sell better than others. It can pay off to do some study to find books that are in high demand. The "Best Sellers in Books" list can help you find books that are selling well right now.
Here are some types of books that sell well on Amazon:
Brand New books
Some customers love the way it feels to hold a brand-new book. Most of the time, wholesalers, distributors, or authors are the best places to find new books. If you want to sell new books, you might need to buy a lot of them at once.
Used books:
Most of the time, it's easier and cheaper to find and buy used books, and if you find a good deal locally or online, it could be more rewarding. You can sell used textbooks to Amazon right off your shelf, or you can find them at local thrift shops, estate sales, or used bookstores. You can also check online markets, local library sales, or neighborhood yard sales.
Textbooks:
Have old college books that are taking up space? If they are still in good shape, you can get rid of them and make a little money by selling them on Amazon. Make sure you give true information about how the book is. Most of the time, the spring and fall are the best times to buy textbooks.
Books without an ISBN.
The International Standard Book Number (ISBN) is a registration code for a book that you can find on the barcode or inside the dust jacket. The book might not have an ISBN if it was written before 1970. If so, you can ask to be removed from the rule.
Rare or valuable books online.
Antique and old books can be a good niche market for people who like to read. Because old collectible books are what they are, it's important to list each book's state honestly. You might be able to sell your rare first edition print copy of The Great Gatsby on Amazon.
Conclusion:
Congratulations! You are now on your way to making money from your old textbooks by selling them on Amazon. As you now know, Amazon sells textbooks in an excellent place because it has a large customer base and a global reach. This gives your texts more exposure than anywhere else. By using this online marketplace to your advantage, you might be able to find buyers from all over the world.
However, knowing the demand for textbooks and doing market research will help you set prices that will attract buyers and give you a good profit margin. Use Amazon's Fulfillment by Amazon (FBA) program to make it easier to sell your books.
As you move forward in your career as a textbook seller, don't forget to keep up with market trends and change your tactics to fit them. Keep an eye out for chances to grow your business abroad by entering new markets and reaching more potential customers.
Selling textbooks on Amazon isn't just a way to make money; it's also a way to help the educational system as a whole. By making tools affordable for students, you help them get the information they need to do well. Feel good that your old textbooks are going to new homes and helping people.
So, why don't you just do it? With the information and tips you've learned, dive into the world of selling textbooks on Amazon. Turn your old textbooks into money and feel the thrill of being a business. Prepare for an exciting journey where your old textbooks become useful assets to help you make money and have a good time.