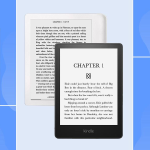 Tap the play button on the audio to listen to the entire article.
Despite the fact that many people prefer holding a physical book in their hands, no one can deny the practicality of best ereaders. Not only are they small and light enough to take almost anywhere, but many also have built-in lights that make them easy to use in low light. They are also pretty cheap since you can find a lot of free files, papers, and even some graphic novels online, even at your local library. We've compiled a list of the best e-readers on the market to help you find the best one for your needs. 
What is an eReader?
E-readers are gadgets that make it easy to read books and magazines on a screen. These gadgets can only be used for reading, or reading is one of their main uses. E-readers today are mostly black-and-white e-readers that use e-ink technology, color tablet devices that let you access rich media and support improved eBook material and newspapers and magazines, and smartphones like the iPhone, Android, and Windows phones.
The best ereaders work by reading a file and showing the text on the screen as "e-ink," or electronic ink. Each page is shown on the touch screen as a separate page, and each new page is shown as an updated display when you swipe the screen left or right or press a button on the device.
Even though e-ink can be made in color, the most common e-reader shows material in grayscale and low density. The latest types of ebook writers have a faster update rate and better clarity, resulting from technological improvements.
---
List of The Best eReaders for Any Budget
Even though Kindles are the most popular ebook reader on the market, they still need improvement. Instead, which e-reader is best for you will rely on where you live and if you already have a digital library. It's essential to consider whether an e-reader will let you borrow from your local public library since this might save you a lot of money.
If you've made it this far, keep reading; we'll help you choose the best ereaders for your needs.
1- Kobo Clara 2E 
The Kobo Clara 2E has the latest E Ink Carta 1200 screen technology, and compared to the Clara HD, it has twice as much saving room at 16GB. The 1E wasn't waterproof, but the 2E has an IPX8 grade, so you can read in the shower or pool without worrying. Kobo says that 85% of the body is made out of recycled plastic and that 10% of that plastic comes from the ocean. 
Other changes include a USB-C port for charging and Bluetooth to listen to podcasts (but only ones you buy from the Kobo Store). All the other normal Kobo features are here, too, like changeable light temperature, support for library books through OverDrive, a wide range of fonts and file types, and a simple user interface that makes it easy to move around the device's features.
2- Amazon Kindle
Amazon waited over five years to release a new version of the Kindle, but the 2022 model is a massive improvement over previous versions. You can sell eBooks on Amazon and choose blue instead of the standard black, and like the Kobo Clara 2E, it is made partly from recyclable plastics. 
Even though the design has changed, the screen is much better than on older Kindles. The new E Ink Carta 1200 technology makes the screen respond faster, be more apparent, and, most importantly, have a 300ppi resolution, a vast improvement over the older 167ppi solution and makes everything on the screen stand out. There is even a dark mode for the screen.
3- Kindle Oasis 
Amazon's top-of-the-line E Ink e-reader got a few small updates in 2019, but this Kindle e-reader is almost the same as the old Kindle Oasis, with one important difference: It has a new built-in light that can be changed from cool to warm, based on whether you're reading during the day or at night. Like Apple's Night Shift mode, you can also set the screen temperature to change instantly with sunrise and sunset.
Most people will be happy with the cheaper Paperwhite for reading the best ereaders. If you want the best reading experience with an anti-glare screen and don't mind paying more for it, you can get the more expensive Voyage.
4- PocketBook
The best PocketBook so far is the Era. It's beautiful, and it's much nicer than other e-readers. It feels heavier than other 7-inch readers, but the weight is spread out well. The new E Ink Carta 1200 display has an extra layer that makes it look reasonable and less likely to get scratched. Low contrast on the screen could be better, but you can get used to it, and it won't bother you most of the time.
Aside from that, the PocketBook Era has a built-in speaker that you will use sparingly. However, Bluetooth lets you pair a set of wireless headphones if you want to listen to podcasts or music (you can put MP3 files on it, but this takes up a lot of space). We like how long its battery life lasts, but its clumsy interface makes it a little harder to use. 
5- Onyx Boox Nova 3 
When it comes to color-screen ereaders, it's hard to suggest one over the other because the colors on all of them look dull. That's not the reader's fault; it's just how technology works. But if you asked us, we'd choose the Onyx Boox Nova 3 Color over something like the PocketBook InkPad Color because of the size of its screen and the way it works.
The 7.8-inch screen is a good size for comics and graphic books, and the Google Play Store is available through Android 10. Even though Onyx doesn't have a bookshop, you can open the Kindle or Kobo app and sign in or create an account. And there you go, you have access to a lot of files. 
The Nova 3 Color also comes with a Wacom pen, so you can take notes or draw to your heart's content. However, electronic readers can't add notes to files you've saved in the "Library" tab of the device.
6- Kobo Libra 2
The newest edition of this ebook reader has cutting-edge technology on its screen, a sleek appearance, and the convenience of tactile page-turn buttons. Like other Kobo devices, you can hold it in landscape mode if you like, and some libraries will let you borrow books to read on it. It's also waterproof. 
At this price, the 32GB of storage is more than you might expect, and Kobo says it can hold 24,000 books. You won't buy that many, so the fact that there's space for 150 recordings seems more practical.
7- Kobo Sage
The screen on the Kobo Sage is more significant than the Kindle Paperwhite screen, but it uses the same improved form of E Ink. The 8-inch screen on this reader could make it hard to use for some people, but the high edge on one side makes it easy to hold. It works with a pen sold separately, so you can write notes in eBooks and PDFs. 
However, this is the best device for reading books. The features are limited: you can share PDFs to read them elsewhere, but the messages you make in an ebook stay on Kobo.
Some buttons make it less likely that you'll accidentally turn the page. However, you can still touch the screen to move to the next or previous page and turn the reader to read in landscape mode. It's also waterproof, so it won't break if you put it in 2m of water for 60 minutes. Kobo also has a function called OverDrive that lets you take ebooks from libraries. However, the number of libraries and books is limited.
---
Benefits of ebook reader
eBooks are better than paper books in many ways. They are cheap, easy to use, movable, and good for the earth. They also have many editing choices, ways to make the book easier to read, and interactive features that paper books don't have. The best ereaders also have several perks for learning and schooling. Even though paper books will always have fans, eBooks are an excellent choice for readers because of their benefits. Here are some of them:
1- Easily Reachable:
You can download eBooks and save them for later use. The eBook can be carried around and read whenever you want. Students and workers can look at the learning materials at home or on the go. It is easy for people who are always on the go. Therefore, book writing services have the choice to work without an Internet link, so people can use them even when they don't have access to the Internet.
Unlike paper books, which must be ordered or bought from a store and take time to get to or wait for delivery, eBooks can be easily accessed anytime and anywhere.
2- Experience with Augmented Reality:
Augmented reality has changed the way eBooks are read in a big way. Texts and pictures can now have a three-dimensional image added to them that pops up on the user's screen. The picture can be seen as a 3D model made by a computer, which makes reading and studying much more enjoyable.
The user must direct the compatible with all devices to the picture or word, and a superior version of the image will show up on their screen.
3- Sharing-Friendly Content:
You can give the eBook to more than one person. The social function of an ebook makes it possible to share and like material.
You could give a paper book to one person at a time. But you could provide an ebook for many people. The company's ghostwriting services let students and workers work with their friends.
4- Dynamic Elements: 
Putting dynamic elements into an eBook makes it more interesting to read. Audio and video files can be put into eBooks. You can add links to other websites to provide more information.
The user can also quickly and easily store a page or look for a word. Users can also add notes to the pages. Therefore, find illustrators for children's books because many such engaging features can be added to improve the reading experience. 
5- Long-term cost-effective:
Some people might think that because it's a new technology and gadget. The price will be higher than written books in the long run. But it's not true at all. Print books cost a lot more than eBooks. Because there is little work like that done before a book is released. Here's more about the question: Are textbooks cheaper than textbooks?
No book covers, paper printing, packing cost, or shipping. So, in the long run, it is much cheaper than a written book. Instead of spending money on paper books, it's cheaper to buy the best ereaders. Because of this, eBooks are cheap.
eBooks are better than paper books in a lot of ways. eBooks are different from paper books. The users can connect with the material. In a written book, the most that can be done is to mark pages or highlight parts of the text.
But with an eBook, you can do a lot more. You can change it to fit your needs and look up things you don't understand. Also, you can listen to the podcast, watch videos, and do much more.
6- Read Aloud Feature: 
Text-to-speech or read-aloud features have been built into eBooks. This makes it possible for people to listen to eBooks when they are too busy to read them, like when they move or do chores.
This function is additionally helpful for kids and people who have trouble learning or can't see well. It can also help the user know how to say a particular word.
7- Environmental Friendly
eBooks are good for the environment because they don't need to be printed on paper. It saves the producers money on printing costs. Every year, about 3 million Trees publish about 2.2 million books.
In addition to taking down trees, the transfer of raw materials, the production process in the mill, and the final shipping all add to the carbon footprint.
8- One gadget, many books:
eBooks are easy to carry around because they are small and light. One reader can hold thousands of eBooks, so you don't have to carry many heavy books. It takes up less room at home and in your bag. No one needs to worry about how much space they can use. Here's a list of the nine best eBook readers that work on multiple platforms.
You can read as many books as you want on a single gadget. The most significant benefit is that students don't have to carry around a bag of readers daily.
9- Simple Changes:
Most of the information in eBooks is in the cloud, meaning you can change it anytime. Authors and producers can always add the most recent information so that viewers can get the most recent digital material. It saves the cost of rewriting and the time it takes.
10- Easy on the Eyes: 
Many eReaders have features that let you change the screen's lighting based on the time of day and your tastes.
Many eReaders even have a feature that lets you read in the dark. The lights won't hurt your eyes, and they won't bother anyone else, either. The user can change the style as well. They can change how big or small the writing is. EBooks take care of your eyes.
---
FAQs
Which electronic device is best for eReading?
E-readers are comparable to the Amazon Kindle use e-ink. This type of paper display technology looks like ink on a page. It is much easier on the eyes than reading from an LCD screen. It doesn't slow down the rate at which we blink.
---
Which is the best tablet for reading books?
The Kindle Oasis is the best tablet for reading books. Also, it has features like a nice light to change and buttons that let you turn the pages. It also has a long battery life and an easy screen on the eyes.
Conclusion
Ebooks can be inexpensive, but the cost can increase if you scan them. You should use your library card to get the best e-readers you can read right away from home. We have a full guide on how to get free library books. Since most libraries use OverDrive, it's pretty easy. These files are immediately taken off your computer when they're due and returned to the library.