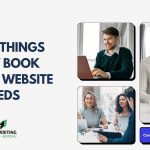 Experience the whole article by listening!!!
Where online presence plays a significant role in an author's success, a well-created book author website is essential in building your unique identity. 
This platform showcases your work and connects you with your readers. To ensure your website effectively serves its purpose, you must consider various elements, from design to content. 
Let us reveal in this article the top 10 things every book author website needs, along with valuable insights into book design jobs that help you add essential elements that attract your audiences. So, let's get started.
Must-Have Elements for Every Book Author Website
1- Engaging Homepage
Your homepage is the virtual front door to your book author website, making it the first and crucial impression on visitors. This page must be not only visually appealing but also attract the audience.
Consider featuring an appealing image of your most recent book, immediately drawing visitors into the heart of your literary world. Complement this with a concise yet engaging author biography. This combination sets the tone for what visitors can expect on your website. You can use engaging words and stories that grab readers' attention.
Your homepage serves as the welcoming element that invites readers to scroll through your literary offerings. It should entice their curiosity, encourage exploration, and ensure they feel at home as they begin their expedition through your literary creations.
2- Author Biography
Your readers crave a personal connection with the creator of their favorite books. Create a comprehensive author biography for a book author website that offers an intimate glimpse into your life and the world that reflects your creativity. Share the story of your writing journey, from its humble beginnings to your current literary endeavors.
An engaging author bio goes beyond mere facts; it connects with your audience, creating a bond forged through shared experiences and aspirations. It's an opportunity to reveal the moments that shaped your writing, the mentors who guided you, and the dreams that keep you motivated. If you're seeking a personal touch, consider adding an author bio on the book author website and including a mention of a ghostwriter near me who may have contributed to your literary journey. It's a great way to connect with your audiences on a more personal level.
Your author bio is not just a text; it's an invitation to your readers to enter a literary world with you. Let it reflect your unique personality that showcases your unwavering dedication to writing.
3- Book Showcase
In this digital world, your book showcase is akin to the grand entrance of a prestigious library, encouraging readers to step into your literary world. Dedicate a well-structured section of your book author website to proudly present your literary creations. Begin with high-resolution, and design a book cover image that serves as a visual invitation to explore your work.
Each book should have its moment in the spotlight. Accompany these inviting images with compelling summaries that offer an enticing taste of the adventures, emotions, and knowledge within your pages. Consider sharing the inspirations behind each book or any anecdotes that enrich the reading experience.
But the customer journey doesn't end there. Swift navigation is key. Provide direct and user-friendly links that guide visitors to where they can purchase your books, whether through online retailers, local bookstores, or directly from your website.
Trending Question: What techniques does a comic book artist use to create an eye catching piece?
4- Engaging Content and Interaction
In the dynamic digital landscape, the heartbeat of your book author website is the continuous flow of engaging content. Providing regular updates is vital to engage your audience and ensure they return time and again. Share your literary insights and the wisdom you've gleaned in your writing career. Offer valuable writing tips that inspire both aspiring authors and avid readers alike.
Keep your audience in the loop via your book author website, with the help of a book writing company, by publishing news about upcoming book releases, events, or behind-the-scenes glimpses into your creative process. Every post is a chance to build anticipation and foster a deeper connection with your readers.
Interaction is the magic ingredient that turns your website into a vibrant community. Encourage engagement through comment sections, discussion forums, or reader polls. By providing a platform for dialogue, you allow your readers to connect with your work and each other, forging bonds that extend beyond the pages of your books.
5- Building Connections
Building long-term relationships with potential prospects is essential, and here is how you can do that by following the simple methods:
Make it simple for fans and potential collaborators to reach you. Include a contact form, email address, and links to your social media profiles.
Building a loyal readership is crucial. Encourage visitors to subscribe to your newsletter for updates, exclusive content, and special offers.
If you attend book signings, literary events, or conferences, provide a schedule on your website. Engaging with your audience in person fosters a deeper connection.
Testimonials and Reviews:
Showcase positive feedback from readers and reviewers. This builds credibility and reassures potential readers of your writing prowess.
Offer a downloadable media kit for media inquiries and collaborations. This should include high-resolution images, author bios, and press releases.
Social Media Integration:
Connect your website to your social media profiles. This extends your reach and enables readers to engage with you across platforms.
Trending Question: How long does it take to read a 300 page book
6- Blog or News Section
In the ever-evolving world of digital engagement, a blog or news section is the heartbeat of your book author website. Regularly updated content is the fuel that keeps your site fresh and relevant, providing readers with a reason to return repeatedly.
Within this significant space, you can share a wide array of content. Offer valuable insights into your writing process, giving aspiring authors a glimpse into your creative approach. Dispense writing tips, sharing the knowledge you have gathered over your literary career.
Keep your audience informed about your latest book releases, upcoming events, and literary news. Don't hesitate to showcase your personal stories that allow readers to connect with you on a deeper level.
By maintaining this engaging section, you keep your website alive and create a virtual gathering place for like-minded literary enthusiasts. It's here, amidst the words and ideas, that your readers will find not just stories but a sense of belonging and a deeper connection to your work. You can search for affordable author website design services to enrich your website with an engaging blog or news section.
7- Testimonials and Reviews
Within the world of literature, trust and credibility are invaluable assets. To establish these pillars of assurance on your book author's website, it's crucial to display testimonials and reviews from various sources. By showcasing positive feedback from readers, fellow authors, and literary professionals, you validate your writing skills and encourage visitors to confidently look into your literary offerings.
Reader testimonials serve as endorsements, resonating with potential prospects who seek assurance in the voices of like-minded individuals. Fellow book authors' reviews can offer a glimpse into your writing style and the impact of your work within the literary community. Meanwhile, endorsements from literary professionals build extra credibility.
Ultimately, these testimonials and reviews are the trust-building tools that convert casual visitors into loyal readers and fans. They help bridge the gap between your words and your audience's hearts, fostering a lasting connection grounded in shared appreciation for your literary talents.
8- Online Store
Maximizing your author website's potential goes beyond sharing words; it extends to monetizing your literary brand. An online store, thoughtfully integrated into your book author website, opens up a world of possibilities. Selling signed copies of your books, exclusive merchandise, or premium content directly to your readers generates revenue and deepens the connection with your fanbase.
To ensure success, prioritize security and user-friendliness in your online store setup. Offer a hassle-free shopping experience where visitors can easily explore, select, and purchase your books. This direct connection with your audience enriches your financial portfolio and solidifies your bond with the readers who have supported you in the literary world.
9- Multimedia Gallery
Diversify your author website's content with a multimedia gallery that includes videos, podcasts, and interviews. These significant elements on your book author website offer a deeper, more engaging connection with your audience. Videos can provide visual insights into your writing process, while podcasts allow readers to hear your thoughts directly. Interviews with fellow authors or industry experts add a layer of expertise and authenticity, enriching your readers' experience and creating a stronger bond between you and your audience.
10- Newsletter Signup
Staying connected with your readers is vital for building a loyal fanbase. A newsletter signup feature on your book author website helps maintain this connection. Encourage visitors to subscribe by tempting them with exclusive content like sneak peeks into your upcoming releases, behind-the-scenes insights into your writing process, or special discounts on your books. This direct line of communication keeps your audience engaged, informed, and eagerly anticipating your latest literary offerings, nurturing a sense of community and anticipation around your work.
In a Nutshell
In the literary world, creating an author website that truly shines is the key to reaching and connecting with your audience. We've explored the top 10 essential elements every book author website needs to thrive in today's competitive literary landscape.
From the engaging homepage that draws readers into the comprehensive author bio that establishes a personal connection and the fascinating book showcase that entices exploration—each component plays a crucial role in your online presence.
Regularly updated content and opportunities for interaction further solidify your website's position as a vibrant hub of literary activity. Encourage engagement through comments, forums, and polls, fostering community among your readers.
You might be wondering and searching online for the best book publishing services near me. You can consult with the Book Writing Bureau too. They have a highly professional team that can assist you in winning the literary landscape.