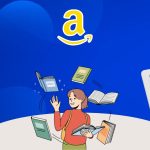 Click the audio play button to hear the entire article!!!
Making money from your writing doesn't require any mysterious tricks or formulae. 
You don't need to be an expert in marketing either; when I started publishing books, I had trouble breaking the $100 monthly barrier for the first year. 
Is it simple to increase book sales? The truth is that it takes a lot of work to achieve anything worthwhile in life.
I eventually started to see results after doing some debugging, testing, and learning from those earning five figures each month. We must carry out the proper procedures to ensure long-term success in our endeavors. 
You should understand the role of book design jobs in marketing. While authoring your book will get it published, advertising and marketing will bring you sales and more readers.
8 Proven Steps to Boost Your Amazon Book Sales
1- Understanding the Amazon Algorithm
Selling an ebook on Amazon might appear simple at first, but in a competitive environment teeming with millions of titles, distinguishing yours can be a challenging task. Every author or publisher dreams of seeing their work rise through the ranks and claim a top spot on Amazon's bestseller list. 
Here are some strategic steps to increase your book sales on Amazon:
2- Book Listing Strategy
To get started, we need a basic understanding of the Amazon algorithm. Amazon's A9 search engine decides which products to showcase based on relevance and performance. 
This implies two primary goals for booksellers: ensuring your book is relevant to potential search queries and proving to Amazon that your book deserves the spotlight.
3- Title & Subtitle
Your book title is what sells your textbooks on Amazon, not the cover. It will mostly rely on your book's topic, but spending the effort to develop a title/subtitle will be a determining factor for potential readers to buy or not.
The title is the hook that attracts readers, and the subtitle is your elevator pitch that informs them what they will benefit from reading this book. Will they slim down? Improve your ability to save money? Can you do a whole marathon in under six hours?
Make a list of all possible titles for the main title and subtitle. Although the title may hint at what the book is about, the subtitle sells it. 
Ensure your title is unique and includes keywords relevant to your book's topic. A catchy, meaningful subtitle can provide more insight into your book's content.
4- Create an Excellent Book Description
If drawn to the cover and title, customers naturally want to read the book description. This description should be brief while still stating enough to persuade readers to buy the book—or, at the very least, to pique their interest enough to use Amazon's "Look Inside" function and read more. 
When creating an Amazon book description, keep the following three points in mind:
Although Amazon's book description box allows you up to 4,000 characters, the first few lines are displayed. Readers wishing to view your description whole must click "read more." 
This is why your initial lines (the headline of your description) are crucial. Your headline can be an award for your book, a quotation from a wonderful review, or a strong sentence incorporating your book's genre and primary topics.
The Blurb: Include a paragraph or two of your book's blurb in the book description box. This adds flesh to your headline, telling readers about your book. 
The Buying Prompt: At the end of your description, explain why people should buy your book. This is your "buying prompt"; it encourages readers to act by clicking on Amazon's "Add to Cart" button. 
5- Keywords
Amazon allows you to choose seven keywords or phrases for your book. Research and select these carefully, ensuring they're terms potential readers might use to find a book like yours.
Finding the appropriate keywords to publish a poetry book can propel your book to the top of search results. High rankings imply increased visibility, which leads to increased book sales.
Another strategy is to use Amazon's search box to look for the title and keywords of your book. Examine the drop-down suggestions. Consider what your readers are seeking when they look for your book.
6- Metadata
Metadata encompasses the details and descriptors about your book, such as the title, author name, book description, and keywords. Ensure that all metadata, especially the title and book description, include key phrases and terms potential readers might use when looking for a book in your genre.
7- Pricing Strategy
Yes, I understand you want to maximize your book sales, but you also don't want to frighten prospective readers with a costly book. Also, remember that any book priced at $1.99 or 0.99 cents earns a 35% royalty, and those priced between $2.99 and $9.99 earn a 70% royalty. Many novels are priced between $2.99 and $5.99.
Consider starting with a lower price to entice initial readers and gather reviews. You can adjust the price later as your book gains traction.

Keep an eye on competitors in your genre or category. Price your book competitively without undervaluing your work.
Established ghostwriters with a significant fan base can charge more, and books priced somewhat higher than the usual may sell well if professionally packaged (excellent cover, large amount of reviews, etc.).
You may begin by pricing your book at $2.99 and gradually increase it by $1.00 each week until you observe a big decline in sales.
8- The Permission Marketing Strategy
Now that we've covered the fundamentals of selling your book, it's time to get started on ebook marketing services. In general, most authors are not marketers. 
Following the abovementioned procedures will position your book in the top 10%, but it's time to step up to the big leagues with a great marketing strategy. This is where you may begin earning actual money.
Remember, these methods are the foundation of a long-term book company. They won't help you make a quick profit but will help you establish the groundwork for setting up passive income and extracting monthly money from your books over time.
First, comprehend this:
How can I attract traffic? With permission. How can you encourage readers to buy your book? By providing them with so much value and free items that they cannot refuse.
We accomplish this by creating an email list of devoted followers.
You may build a loyal following of readers excitedly awaiting your next book's publication by building an email list. Imagine that you have 1000 eager fans waiting impatiently for your book on launch day. The minutes are being counted down. 
Other Elements to Focus on Sales a Book on Amazon:
Always Add A+ Content
You should offer A+ material to your book retail page. If you cannot include it, request that your publisher do it.
Why is A+ content important? For one thing, it aids conversion. It's also a terrific opportunity to go deeper into your book's content, which aids reader engagement and persuades readers to buy.
A+ Content is visual, and visual appeals are powerful.
Amazon book sales appear to be a deep, dark secret, but they don't have to be.
The adjustments, additions, and upgrades I propose will require time and maybe some money. However, the book sales will be enormous!
Expert Editing
A book that has been improperly edited will earn negative feedback. Period. While having bad reviews on your book is good, you don't want those evaluations to be about the writing quality. It immediately turns off book purchasers.
Poor writing quality doesn't refer to the occasional error (readily remedied) but to a work riddled with terrible language, misspellings, and an unprofessional look. Would you buy a car with collapsing doors? Of course not, and a reader will not read a book that hasn't been edited correctly. Consider online ebook editing services to ensure your work is polished and professional.
Leveraging Amazon Author Central
Creating an Author Central Profile can enhance your book's presence on Amazon. Setting up your author page gives readers a centralized place to discover your works, learn more about you, and even follow your updates.
Though I'm not a fan of the new Amazon Author Central look, it's still an important area to increase book sales and get your work noticed. Make sure your bio is up-to-date, intriguing, and relevant to your reader demographic because it will now be the first thing potential customers see.
Do not write a generic bio; instead, be unique and strategic. Remember that your bio should inspire people to like, trust, and connect with you. Consider what your ideal reader wants to hear from an author they admire.
The Bottom Line:
Write and publish books that sell on Amazon if you want to sell more books and make money as a professional author. Choose a target audience and create material for that audience. Look for professional book publishers, if needed. Become a brand for your work and advertise it properly.
Stick to the fundamentals of book publishing by writing a book that piques your readers' attention and offers them enjoyment [fiction] or life lessons [nonfiction]. Devote your time to establishing a series of impact and branding appeal books.