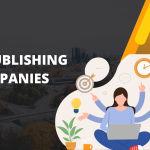 Are you a new author or an aspiring writer who wants to publish your book? With the emergence of self-publishing, you no longer have to go through the rigorous process of traditional publishing houses. However, with so many self-publishing companies available, choosing the right one can be overwhelming. We have gathered a list of the 15 best self-publishing companies for independent book publishers.
List of The Best Self-Publishing Companies
Here are the top recommendations for self-publishing companies that take your book from manuscript to eBook in no time.
1- Amazon KDP
Amazon KDP is the self-publishing platform of Amazon.com, the world's largest e-commerce retailer. The service allows you to publish and sell ebooks on Amazon in digital format to millions of readers to reach a wider audience.
With Amazon KDP, you can choose from two publishing options: KDP Select (exclusive) and KDP Select Global Fund (non-exclusive). In both cases, you will earn a share of the revenue generated by your book sales.
The main difference between these two options is that your title cannot appear on platforms like Nook or iBooks with exclusive publishing. However, non-exclusive publishing allows you to distribute your title in other stores as well.
In addition to these two publishing options, there are also other ways for authors to promote their textbooks on Amazon:
Amazon Author Central
 This is an online home for authors where they can manage their author profiles. Also, provide information about themselves and their work. This site also offers tools for readers interested in learning more about an author's work, such as reviews or biographies.
Amazon Book Reviews 
This feature allows readers who have purchased or read a 300 pages book on Amazon to leave reviews about it (or its author).
---
2- BookBaby
BookBaby is one of the best book self-publishing companies that provides authors with tools to self-publish, distribute and market their books. The company was founded by Kevin Weiss in 2007. BookBaby offers various services, including eBook editing, design and production, distribution, and marketing.
In addition to offering digital publishing services, BookBaby also publishes print books on demand (POD). POD is a technology that allows the best self cookbook publishers to print one copy at a time or in small quantities instead of printing large quantities of books at once. This allows for more control over costs and inventory management.
BookBaby's parent company, Author Solutions LLC (ASL), has been criticized by many industry professionals for its business practices and high fees, detailed in an investigative report from The New York Times in 2015. In response to these claims, ASL created BNIApproved as an independent organization that evaluates self-publishing companies based on quality standards such as customer service and transparency. As of December 2018, BookBaby has received BNIApproved accreditation status.
3- Book Writing Bureau
Book Writing Bureau is a self-publishing company that offers book distribution, print-on-demand, and services for ebook writing. It is a part of Ingram Content Group, which provides distribution services to the major best self-publishers and large self-publishers. You can write a children's book with the help of this company.
Book Writing Bureau offers the following package:
LightningSource Package: 
If you plan on selling your book to libraries or retail stores, this is the package for you. The LightningSource Package allows you to publish print books that major retailers like Amazon and Barnes & Noble can sell. The LightningSource Package also offers worldwide distribution to over 200 countries through Ingram's global distribution network. This package includes all of the following features:
Print on Demand (POD) and Direct Sales
Print-on-demand means no inventory! You only pay for copies of your book sold through Ingram's distribution network. This helps reduce risks associated with having to stock large amounts of inventory before they sell out and become worthless!
Worldwide Distribution: 
Your book will be available in over 200 countries through Ingram's global distribution network!
---
4- Barnes & Noble Press
Barnes & Noble Press is a publishing division of Barnes & Noble, Inc. The company publishes trade books, textbooks, and digital content in various genres, including fiction and nonfiction, self-help, humor, and gift for book lovers.
The company publishes books by prominent authors such as George W. Bush, Michael Moore, and Dr. Phil McGraw. The company also publishes a large list of books that have appeared on the New York Times Best Seller List.
To be considered for publication by Barnes & Noble Press, authors must submit a proposal describing their book idea and what makes it unique. Once accepted, authors work with professional editors and designers who help them perfect their manuscripts before publication. With the assistance of Barnes & Noble Press, you can write a book about your life.
---
5- Blurb
Blurb is one of the most popular online self-publishing companies and one of the oldest. They have been around since 2007 and have helped countless authors publish their books.
Blurb has a long list of features and services that make it easy to get your work out there. You can set up your website for free and sell your work directly from there using Blurb's eCommerce tools. You can also sell your book on Amazon, Barnes & Noble, Apple Books, and Google Play without paying any extra fees or doing any extra work. If you want to sell in other online stores, you'll need to use a different service like KDP or IngramSpark.
Blurb has excellent customer support and will walk you through every stage of the process from start to finish. They even offer free design help if needed!
---
6- Draft2Digital
Draft2Digital offers a wide range of online self-publishing services, including distribution, marketing, and sales. This is a great choice for new book publishers because it has a user-friendly interface, excellent customer support, and an affordable pricing model.
The company's publishing platform allows you to upload your book in any format, whether a PDF or Word document, and convert it into the necessary ebook file formats (such as EPUB). You can also use its print-on-demand service to create paperback books.
Draft2Digital has a large network of distribution partners, allowing you to reach thousands of online retailers worldwide. In addition, they offer free analytics reports so you can track your sales performance over time.
---
7- Smashwords
Smashwords is the largest distributor of self-published ebooks in the world. The company's website has over 100,000 titles available for readers to download on their iPhone, iPad, or another mobile device.
Smashwords was founded by Mark Coker in 2008 to make self-publishing easy for new authors. The company was started in Los Angeles and moved to San Francisco in 2012. It has since become one of the greatest popular self-publishing platforms on the Internet.
The company offers various services that allow writers to distribute their books worldwide at no cost. The platform also allows users to sell their books directly from their websites to make more money from sales. It also provides a free ebook reader app called MobiPocket Reader which lets customers read ebooks on their mobile devices without having to install additional software onto their own devices.
---
8- Kobo Writing Life
Kobo Writing Life is a professional self-publishing service that lets you publish, distribute and market your book. The service has been developed specifically for writers and is designed to help you turn your manuscript into a professionally published book. It offers professional book printing services. You can submit any type of book for publication, but there are some restrictions on subject matter and length. Kobo Writing Life offers the following services:
Manuscript editing: to help you improve your writing style and ensure your book meets professional standards
Cover design: to ensure your cover looks great and fits with the rest of your publication
Book formatting: to ensure that the layout of your book looks exactly how it should
Publishing platform: for creating a professional-looking e-book version of your manuscript.
---
9- Reedsy
They offer affordable book writing services and give you access to a wide range of professional editors, designers, and other experts that can help make your book stand out from the crowd. They also have an easy-to-use website that makes it simple to manage your books and keep track of sales, allowing you to focus on instead of worrying about anything else.
They're based in Paris but have offices worldwide, so they can assist you with any language or location-specific issues you might encounter while creating your book.
---
10- PublishDrive
PublishDrive is a self-publishing book writing company that allows authors to publish their books and sell them anywhere in the world. It's a great way for new authors to get their work out there and for existing authors to reach a wider audience.
PublishDrive offers several services, including:
Self-publishing platform.
PublishDrive helps you create an ebook and then makes it available on all major e-book retailers such as Amazon Kindle, Apple iBooks, Barnes & Noble Nook, Kobo, and Google Play. You can also sell your book independently on your website.
Audiobook production and distribution. 
PublishDrive makes it easy to create audiobooks from your book and distribute them through Audible, iTunes, and other major audiobook platforms.
Book marketing tools. 
PublishDrive has various affordable book marketing tools which help you promote your book online and build a loyal audience of readers. These include free author websites with tracking analytics, blogs, and social media channels where you can interact with readers directly.
Author community resources. 
The PublishDrive community includes a range of other authors who are happy to answer questions about publishing or offer advice on writing topics such as plot development or character creation.
---
11- StreetLib
StreetLib is a new kind of self-publishing company that is gaining popularity among authors who want to publish their own books but don't have the time or assets to do so. They offer a unique service that allows you to upload your manuscript, choose from various poetry book cover designs and formats, and let StreetLib take care of all your formatting needs and distribution through Amazon Kindle, iBooks, and other major platforms.
They use an innovative approach to helping new authors get their books into the world. The company offers an easy process for uploading your manuscript and then creates an e-book version for you in different formats to sell it on multiple platforms like Amazon Kindle or Apple iBooks. It also provides professional cover designs at no extra charge, something most book self-publishing companies charge extra for.
---
12- Xlibris
Xlibris is one of the most established and best self-publishing companies. It is a subsidiary of Author Solutions, which owns other publishing brands like Author House and iUniverse. Xlibris has been around for more than 20 years and has published over 200,000 books. The company offers an extensive range of services, from editing to formatting to publishing assistance.
The company has won many awards, including Best Self-Publishing Service by Writer's Digest. Also, They got Best Book Designer by the Independent Book Publishers Association (IBPA). If you want to publish your book quickly with some help along the way, Xlibris might be a good fit for you!
---
13- iUniverse
iUniverse is a self-publishing company that allows you to write, edit and publish your book. It offers a variety of packages for authors, from the basic package that includes proofreading to the premium package, which includes cover design and children's book illustrators for hire.
iUniverse has been in business since 1997 and has published over 100,000 books. It has received several awards for helping new authors get their books published.
The company also provides some useful tools for writers, like book marketing tips and advice on how to promote your book once it's published so that readers can find it easily online.
iUniverse was founded by Dan Poynter, known as one of the pioneers of modern self-publishing techniques, having written over 50 books on the subject, including his famous Self Publishing Manual (1976).
---
14- Inkitt
Inkitt is a self-publishing platform that helps authors and self-publishers to promote their books and earn revenue. This is the best place to publish your book if you want to get it published fast and earn some money. The platform was launched in 2015 by a group of young entrepreneurs from France. They believe that the reader should be at the center of everything they do, so they provide them with a great reading experience and give them more control over their favorite books.
Inkitt has a wide range of tools for both readers and authors. It offers ebooks for all readers, including kids, teens, and adults. Authors can use Inkitt's self-publishing platform to publish their novels and get access to an audience of millions of readers worldwide through its website or mobile app. The company has also partnered with big names such as Best Books On Kindle Unlimited, Apple Books, Barnes & Noble NOOK Press, Storytel, Audible, and many more.
---
15- CreateSpace
CreateSpace is a self-publishing company owned by Amazon. They offer a wide range of services and products that make it easy to publish your book. CreateSpace has been around since 2006, so they have much experience with self-publishing.
The biggest advantage of using CreateSpace is that they will print your eBook, which means you don't have to find a printer or worry about any other aspects of printing. However, they do charge $0.99 per book for this service.
---
What Are the Criteria of Best Self-Publishing Companies?
The self-publishing industry is complex, and it's easy to vanish in the sea of options. To make things easier, consider these criteria when evaluating self-publishing companies:
Experience in the Industry. 
Self-publishing is no longer the new kid on the block. It's become a major part of the book publishing industry, and many companies have been offering services for years. If you're looking for someone with experience, look at their website publisher or call them to ask about their history.
Quality Control Standards.
 Every self-publishing company will have different quality control standards and procedures, but all of them should have an established process for ensuring that your manuscript is well-edited and formatted correctly before it goes to print. One way to ensure that you're dealing with a reputable company is to check out their customer reviews online and see what other authors have said about their experiences working with them.
Reputation Among Authors and Readers.
 Look at how long a company has been in business, and check out its reputation among authors who have worked with them before and readers who have read books published by them. You can also find out if they're members of any professional organizations representing reputable self-publishing companies.
Pricing Structure
Before you choose a self-publishing company, it is important to look at its pricing structure. Some companies charge per book, while others charge per page or word count. You should also consider whether you want to pay for design services. If you do, you will need to pay an additional fee for your book's cover design and interior layout.
Pricing is usually based on the type of book that you are publishing. For example, if you have written a novel and want it to be published as an ebook and paperback, expect to pay more than if you just wanted it printed as a paperback only.
Customer Service
The best self-publishing companies offer great customer service and support throughout the entire process of publishing your book. They should also guide how to promote your book once it has been published on Amazon and other online retailers.
 Editorial Support
The editorial support of a self-publishing company is crucial to ensure that each book will be of the highest quality. The editorial team should work with you to make sure your manuscript is well-edited and ready for publication. They should also help you find ways to improve your manuscript and provide feedback on how to write more engaging content.
Marketing Campaigns and Promotion Packages
Marketing campaigns are usually included in the cost of publishing, but you can also purchase promotions separately if you want more exposure for your book. Promotion packages include social media campaigns, email marketing, press releases, and even video creation. You can choose from different levels of promotion depending on how much money you have obtainable for marketing purposes.
---
Self-Publishing Companies VS Publishing Companies
Self-publishing companies and publishing companies are two very different things. A self-publishing company is a company that will publish your book for you and helps you market it. This is usually done through e-book retailers like Amazon.com, Barnes and Noble, Kobo, and iBooks. Self-publishing companies also handle the formatting of your book, so you don't have to worry about changing font sizes or margins on every page.
A publishing company is a company that helps authors get their books published traditionally. This means they will send out query letters to agents in hopes of getting picked up by a big publisher like Random House or Simon & Schuster. Become a book publisher has access to all the major bookstores across America. It means your book will be available in every bookstore across the country!
The difference between self-publishing companies and traditional publishing houses is that with self-publishing companies, you are 100% responsible for everything from start to finish, while with traditional publishing houses, they do most of the work for you!
---
What are the benefits of being a self-publisher?
The benefits of being a self-publisher are:
You can choose your content, format, and price.
A self-publisher can create a brand, style, and identity.
You can control your destiny by marketing your book directly to readers through social media marketing, blogging, and other forms of promotion.
Book publishing is extremely profitable if you know what you are doing.
---
What are the pitfalls of self-publishing?
The biggest pitfalls of self-publishing are the same as with traditional publishing:
You have to do everything yourself. This means you have to write your book, edit it, format it, market it, and distribute it. If you don't know how to do any of these things, you'll need to get some help.
You don't have an editor or an agent who can help you get your book into the hands of readers. If your book is good enough, it will find an audience on its own. If not, then you'll be stuck sitting by the phone waiting for someone to call about a review or interview request (which will never come).
You don't have a job as an author, so if sales aren't great from day one, you might not make much money (or even lose money). Or if sales are great from day one, then there's no guarantee that they'll stay that way — especially since most books sell well in their first few months before dropping off dramatically after that period has elapsed (unless they become bestsellers).
---
Are self-publishing companies worth it?
self-publishing companies can be worth it if they offer high-quality services at a reasonable cost, give authors control over the publishing process, and have a wide distribution network. However, it's important to research and compares different self-publishing companies to find the one that best fits your needs and goals as an author.
---
How much money do I need to self-publish?
Publishing a book in the United States typically requires a financial investment of between $500 to $5,000. This includes expenses such as hiring an editor, utilizing book designer services, and marketing. On average, self-publishing a book costs around $2,000, taking into account both the publishing and marketing aspects.
---
Which is the best platform for self-publishing?
Most self-publishing platforms offer similar services, but some have more advantages than others. Here's a look at five leading self-publishing platforms and what they offer.
Amazon KDP
BookWritingBureau
BookBaby
Smashwords
Draft2Digital
---
Conclusion
Self-publishing is a great option for new authors who want to get their work out into the world. With so many self-publishing companies available, it can be overwhelming to choose the best one. By considering factors such as cost, and services offered, new authors can make an informed decision about which self-publishing company to use.