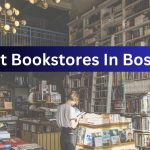 Boston's heart beats with a rhythm of words and pages, a city steeped in the stories of history and the whispers of literary giants who once roamed its cobbled streets. 
Here, the best bookstores in Boston are not just shops but sanctuaries of thought, communities where the love for the written word is as palpable as the aroma of fresh ink on paper. These bookstores are the silent narrators of the city, each with a story to tell and a world to reveal within their walls. For those aspiring authors seeking a platform, explore the vibrant literary scene in Boston, supported by notable independent book publishers in New York.
As we get through these hubs of knowledge and imagination, we find more than just books. We discover pieces of ourselves and the world around us. So, join us on a journey through the winding aisles and cozy nooks suggested to make Boston's best bookstores a reader's haven.
10 Best Bookstores In Your Area Boston
1- Brattle Book Shop
Brattle Book Shop, with its roots reaching back to 1825, stands as a testament to the timeless allure of books. This historic shop has witnessed the city's evolution while remaining a steady source of literary treasures. Exploring its charming outdoor stall reveals towering stacks of used and out-of-print books, each seemingly whispering stories of their past readers. For those looking to preserve their own literary treasures, consider exploring the best book printing services for a professional touch.
The shop's three floors house over 250,000 books, maps, and postcards, offering a glimpse into bygone eras. At Brattle Book Shop, every visit brings a discovery, making it one of the best bookstores in Boston for those who love to delve into history. It's more than just a store; it's a landmark where the bookstores in Boston have turned pages for centuries.
2- Trident Booksellers & Café
When you mix the rich aromas of freshly brewed coffee with the inviting scent of new books, you get Trident Booksellers & Café. This spot on Newbury Street offers a perfect culinary and literary satisfaction blend. 
As one of Boston's most amazing bookstores, Trident entices the intellect and taste buds. You can lose yourself in the latest novel or a timeless classic and then join in on the lively conversations often at the café tables. 
Their well-curated selection is matched by a menu that caters to any craving, making it an ideal place for brunch with a side of bestsellers. The modern twist on a bookstore has made Trident a favorite gathering spot and a must-visit when seeking the best bookstores in Boston.
3- Harvard Book Store
Just a stone's throw from the hallowed halls of one of the world's most prestigious universities lies the Harvard Book Store. This independent shop in Cambridge is an intellectual hub where thoughts and ideas converge amidst aisles of academic works and literary masterpieces. 
The atmosphere is electric with scholars' and students' energy, all pursuing knowledge. Harvard Book Store is not just a place to buy books; it's a place to grow and learn. 
They offer a large selection that caters to the curious mind, from the latest scientific journals to timeless philosophical treatises. Known as an outstanding among the best bookstores in Boston, this place goes beyond just selling textbooks; it helps a community where minds can meet and wisdom is free to flow. It's this dedication to the life of the mind that cements its status as a premier bookstore that Boston residents and visitors cherish.
4- Brookline Booksmith
In the heart of Brookline, you'll find a warm, inviting space known as the Brookline Booksmith. This shop radiates community charm, beckoning locals and visitors with its friendly atmosphere.
The shelves are a colorful mosaic of books with titles across genres. It's easy to get lost in the stories that await here. Brookline Booksmith isn't just about the books on the shelf; it's about the people who walk through the door.
Frequent events fill the calendar, fostering a space where authors and readers engage. These gatherings are the heartbeat of the store, making it more than a retail space. It's an outstanding of the community.
5- The MIT Press Bookstore
Cambridge serves the humanities and the world of science and technology at The MIT Press Bookstore. This unique establishment is a niche paradise for technologically curious people.
Upon entering, visitors are greeted by a selection that spans the latest in computer science, artificial intelligence, and engineering. It's a bookstore that reflects the innovative spirit of the neighboring Massachusetts Institute of Technology.
The carefully curated titles are not just for academics. They indicate to anyone intrigued by the future what lies at the intersection of technology and society. The MIT Press Bookstore stands out among the bookstores in Boston and best bookstores NYC for its dedication to the thinkers and dreamers of tomorrow.
6- Commonwealth Books
Tucked away in a quieter corner of Boston is Commonwealth Books. This gem is a haven for those who cherish the past, with its wooden floors echoing under the soft rustle of pages turned by time.
As you step inside, you're transported to another era, surrounded by rare and antique books that hold their own stories. Each shelf and table has collectibles and out-of-print editions that can't be found anywhere. For those enchanted by such literary treasures, this bookstore is a haven. It also happens to be one of the best gifts for book lovers, offering an unparalleled experience for bibliophiles seeking the magic of timeless tales and unique editions.
Collectors and casual readers can spend hours sifting through the dusty tomes and vintage prints. It's a place where history comes alive, making Commonwealth Books a standout destination among the bookstores in Boston.
7- Porter Square Books
Cambridge's Porter Square is home to a contemporary literary oasis: Porter Square Books. This modern bookstore bursts with the vibrancy of the community it serves.
Inside, the atmosphere buzzes with energy. Readers of all ages explore the 66 Bible Books releases and staff picks, each book hand-selected for its potential to captivate and inspire. Whether you're seeking ancient wisdom or contemporary insights, the curated selection promises a fulfilling literary journey.
The bookstore's calendar is a testament to its role as a community hub, with frequent author talks, signings, and book clubs. Porter Square Books is where conversations start, ideas form, and the love of reading is shared.
This commitment to fostering a love for literature secures its place among the top bookstores Boston boasts, beloved by locals and visitors alike.
8- Papercuts J.P.
In the heart of Jamaica Plain, Papercuts J.P. stands out as an indie bookstore that champions the unique and the eclectic. This small shop is a curated wonder, each shelf carefully composed to surprise and delight.
Papercuts J.P. has earned a loyal following for its thoughtfully selected range of books, each chosen to challenge, entertain, and enlighten. The store may be compact, but it's mighty, showcasing a diverse collection that speaks to the varied tastes of its community.
The spirit of independence runs deep here, from the books on offer to the events that fill its calendar. Papercuts J.P. is a treasure amongst the book stores in Boston, a testament to the city's love for the independent and the original.
9- Newtonville Books
A short trip from the city center brings you to the quaint streets of Newton, where Newtonville Books offers a tranquil retreat for suburban book lovers. With its inviting ambiance, it's a place where the community's passion for reading is palpable.
The well-lit, spacious store encourages leisurely browsing, with nooks perfect for sinking into a new book. The selection is diverse, ensuring readers from all walks of life find something to cherish.
Newtonville Books may be away from the hustle of downtown, but it hosts an impressive array of events, from author readings to book clubs, nurturing an amazing literary culture. It's a suburban jewel among the bookstores in Boston, where the pace slows, but the excitement for reading thrives.
10- East End Book Exchange
In the neighborhood of East Boston, there lies a charming nook for book enthusiasts: the East End Book Exchange. This cozy bookstore might be small in size, but it's large in heart and character.
The East End Book Exchange is more than just a place to buy books; it's a community anchor where locals and visitors connect over shared stories. With shelves stocked with second-hand books, it invites you to find joy in giving a book a second life. Whether you're into classic novels, contemporary fiction, or exploring the captivating world of graphic novels and comic books, this welcoming space has something for every literary taste.
Here, every book carries the imprint of the community it serves, from local authors to titles that resonate with the neighborhood's diverse culture. It stands as a testament to the power of reading in bringing people together, making it a beloved fixture among the bookstores in Boston.
Best Comic Book Stores in Boston
2- Comicopia
3- Comicazi
4- Hub Comics
5- New England Comics
________________________________________________
FAQs
Are there stores for creating custom book covers in Boston?
Yes, there are services available. If you are looking for a book cover store or want to create a custom book, Boston offers various book cover design services. You can start by contacting local book cover designers for professional assistance.
If I'm interested in self-publishing, are there book publishing stores in Boston I can approach?
Boston has a range of best book publishing services that cater to self-publishing authors. They can provide comprehensive services, from editing to distribution.
I'm looking for children's comic books. Which comic book stores in Boston have a good selection?
The children's comic book shop and Brookline Booksmith have an excellent selection of children's literature. It also includes monster truck books for toddlers, a hit for young readers.
Where can I find a good selection of religious texts, such as Bible books, in Boston?
For those seeking religious texts like Bible books, The Harvard Book Store and the Brattle Book Shop have sections dedicated to religious and spiritual literature, catering to various faiths and interests.
Conclusion:
The city's bookstores are its heartbeat in every corner of Boston, from Beacon Hill's cobblestones to Cambridge's academic havens. They offer more than just books; they provide gateways to other worlds and forums for lively discourse. Remember that these bookstores in Boston are not just stores; they are community out standers, helping the city's love for literature.