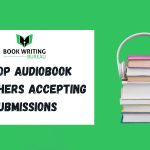 Click on the audio's play button to hear the entire article!
The audiobook publishers are now worth more than $1.2 billion, so you have a real chance of getting a piece of the growing pie. But first, you'll need an audio producer to help you record, share, and sell your work.
People should not think that publishing and production companies are the same.
When working with a publisher, you sign away your rights to the book. On the other hand, production companies only help make a podcast form of your work.
Both need a share of the royalties. Whether you choose an audiobook marketing company or an audiobook recording company relies on what you want to do and how much money you have.

Everything About Audiobook Publishers:
The leading audiobook publishers provide a wide range of options for their customers. While some publishers focus only on audio, others provide print and digital media contracts.
In addition, it might be harder to satisfy a publisher's specific submission requirements. This is because many prestigious publishing houses conceal their submission guidelines. You'll need a literary agency since they don't accept submissions that haven't been requested.
Here are the names of the top ten audiobook publishing services company:
1- Audible:
Since Audible is the most popular place to buy ebooks, most authors know it as a site for selling books, not as a production company or publisher.
But Audible has many recording projects going on at once. They also act as a standard publisher by buying the rights to audiobooks, which they then create and sell. Their production shop, ACX, stands for Audiobook Creation Exchange.
Authors' recordings aren't made by Audible directly. ACX connects authors with narrators, audiobook creators, and audio experts. The authors post their books online so directors and narrators can try them out. They can also get in touch with companies they want to work with.
After looking at the auditions and choosing a director, an author negotiates the terms of the deal. Most makers get paid by the hour, but some may agree to an ACX royalty-share program where they get half of the book's earnings.
After that, the director records the book, and the Author can request changes.
When the book is finished, the Author can choose whether to sell it only through ACX or to sell it to other companies.
If a book is exclusive, it can only be sold on Amazon, Audible, or iTunes. Non-exclusivity means that the book can also be sold through other outlets, but the income rate for the Author is smaller.
Authors should be aware that if they use ACX's royalty-share choice to make their book, they can only sell it through ACX.
2- Book Writing Bureau:
BookWritingBureau is another member of the Big 5 traditional publishers. Founded as Audio Renaissance in 1987, the imprint's name changed to BookWritingBureau in 2007.
They publish fiction and nonfiction books from various genres, and their narrators include high-profile actors like Meryl Streep, Stanley Tucci, Gwyneth Paltrow, and Billy Crystal.
3- Blackstone Publishing:
Blackstone Audio is one of the largest independent audiobook publishers and the best audio book services in the United States. They currently have more than 30,000 titles. When I say "independent," I'm referring to the fact that Blackstone isn't owned by one of the large publishing conglomerates.
I don't mean that they work with independent Authors. Blackstone does not accept unsolicited submissions through their website. Any Authors wanting to publish with Blackstone must submit through a literary agent.
4- HarperCollins:
James and John Harper started J. and J. Harper more than 200 years ago. Since its start in 2017, the publishing company is now known as HarperCollins worldwide. It has branches worldwide, from Denmark to Japan, but its headquarters are in New York City.
More than 1,500 works of fiction and nonfiction are available as audiobooks. People like listening to Dave Grohl's The Storyteller, which he narrates, and Ann Patchett's These Precious Days.
HarperCollins does not consider or read unsolicited requests or submissions.
5- Podium Publishing:
Podium is a hub of publishers marketplace that helps new artists get their work out there. Audiobooks of all types, from mysteries to thrillers to young adults to nonfiction, are supported, created, and disseminated by the company.
However, they excel in writing speculative fiction, fantasy, and romance. They are proud to have "pioneered the popular subgenres of Gamelit, LitRPG, Progression Fantasy, Wuxia, and Xianxia to the forefront."
Podium works on independent audiobook printing and most of the titles it buys come from authors who have already released their books.
6- Upfront Books:
This puts out ancient books that still have value for people in their everyday lives. In the same way, the company based in New York City was one of the first to bring expert reads to the world of podcasts. In other words, Upfront Books always looks for books that will help people grow and learn.
Every Moment Matters, a podcast about sports psychology by John O'Sullivan, is one of its most popular items. The book is interesting because it collects the thoughts of teachers, players, and sports scholars who have been in the field for a long time. You could also listen to Launch to Market by Chris Fox to learn more about business writing.
Upfront Books takes both entries from agents and anonymous writers. Just send them an email with a link to your book.
7- Brilliance Publishing:
Brilliance Publishing is an Amazon Publishing branch that focuses on podcasts. It is in Grand Haven, Michigan, and it already has a library with thousands of podcasts. Also, this group of publishers includes things like faith-based fiction, current events, magical romance, and business management.
These Toxic Things, a drama by Rachel Howzell Hall, came out in 2021 from Brilliance Publishing. Fans of Brad Parks also liked the way Unthinkable was told. But you'll also find literary fiction, women's fiction, business books, biographies, and also publishing children's books.
Agents and writers who want to work with Brilliance Publishing can easily email the publication.
8- Novel Audio:
Since 2012, Novel Audio has been making the best audiobooks. Novel Audio buys the rights to turn books into audiobooks, just like many other companies on this list.
They are different from most of the companies on this list because they accept entries from anyone. They say, "We work with traditional publishing and self-publishing experts big and small, but we also love exploring the new world of self-published work."
Novel Audio focuses on fiction and nonfiction for adults, with the odd book for kids.
9- Naxos Audiobooks:
Since its start in 1994, Naxos Audiobooks has focused on famous works of literature like those by Jane Austen, Shakespeare, and Homer. It became known quickly for its records, which often had famous singers like Juliet Stevenson and Kenneth Branagh on them.
Over time, the label added some classics of modern fiction to its list. Naxos also publishes serious books for adults in history, religion, and philosophy.
10- Oasis Audio:
Oasis Audio was established in 1999 and is an audiobook publisher of motivational and self-improvement works. They now sell textbooks and audiobooks of the Bible, nonfiction, fiction, children's, and business books.
Today, Oasis Audio is the only company in the US that puts out more Christian and spiritual audiobooks than any other company. They aim "to publish stories and other content that uplifts, inspires, and encourages positive values and personal growth."
Production Companies vs. Publishers
It's important to distinguish between a "publisher" and a "production company."
Most were published independently. To create an audiobook, writers need the services of a production business. A conventional publisher (one that would acquire and own the rights to their work) is not what they have in mind.
In return for an audiobook adaptation of their work, authors might negotiate a flat price, a per-finished-hour rate (PFH), or, in certain exceptional situations, a share of future earnings with a production firm.
In most cases, the narrator's voice is chosen by the Author. Before the book's publication, they may also provide feedback on the audio version. All rights, including earnings, remain with the Author at all times.
However, conventional publishers give authors money, known as an advance, to acquire the rights to publish their novels. After that, the publisher may keep all the money from the book's sales (less any author's royalties).
By signing a conventional publishing contract, an author cedes all editorial authority to the publishing house. The publisher produces the audiobook, and the Author has little involvement in the process.
The Bottom Line:
It's a great time to be an aspiring author or narrator since the audiobook publishing industry is booming and full of exciting possibilities. In this analysis, the 10 best audiobook publishers exhibit quality and creativity and help new talents break into this quickly developing market.
The audiobook format has rapidly grown in popularity as technology has advanced, providing listeners with captivating stories they may enjoy during their commutes, trips, and free time. Inspiring writers and storytellers to work together and give life to their tales excitingly, the publishers highlighted below play a crucial role in defining this environment.